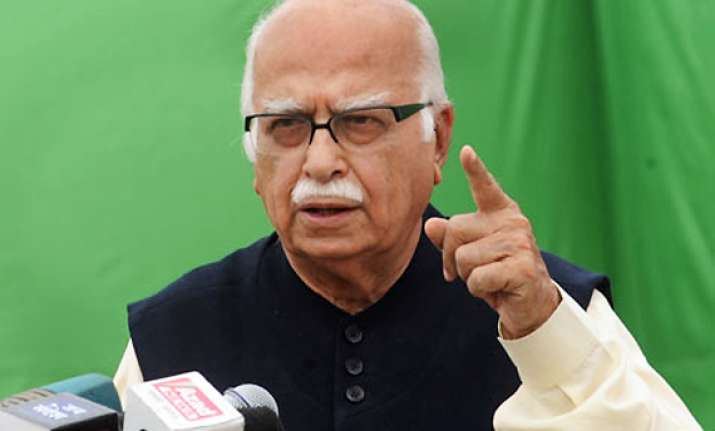 New Delhi, Mar 10: The issue of bringing back Indian black money stashed abroad is likely to figure prominently in the Budget session of Parliament beginning Monday with BJP leader L K Advani today saying that the Opposition was eager to know how the Government had tackled the matter.

Recalling Finance Minister Pranab Mukherjee's assurance to Parliament during the Winter session that a "white paper" (authoritative document) would be brought on black money, Advani said it was an "important issue" and the opposition looked forward to it with great expectation.

"I do not know if the Finance Minister's promise in the last session of a white paper on black money is going to be presented in the first part or after the recess. That is an issue we look forward to with great expectation...that it will not be just a formal thing," he told reporters here.

"The issue itself is important and we would like to know from the white paper how the Government has tackled it till now or proposes to get back the enornmous wealth, which has been very often illicitly earned...," he said.

During the discussion on the adjournment motion in the Lok Sabha, Mukherjee had assured that the government will bring a "White Paper" on black money.

Replying to a spirited debate on Adjournment Motion on Blackmoney moved by Advani, which was later defeated by voice vote, Mukherjee had rejected Opposition demand for making public the information received, saying it would violate the agreement with foreign countries and also "dry up our source of information".

Asked about Lokpal Bill, which could not be passed in the Rajya Sabha during the Winter session, Advani said the legislation should be brought in the House.

"Lokpal Bill should be brought," he said.

The Rajya Sabha had witnessed a mid-night drama after the government said on expiry of the extended time period of the Winter session that there was no time left for voting and passage of the Lokpal Bill.

An angry Opposition had accused the Government of being in a "hopeless" minority and running away from Parliament.

Without referring to the Centre's proposal to implement National Counter-Terrorism Centre (NCTC), Advani also said the Opposition would demand a discussion on its "concern on encroachments into the state's authority".

He said Leader of Opposition in Lok Sabha Sushma Swaraj had expressed the Opposition's concern on encroachments into the state's authority and dilution of the country's federal structure when she met Speaker Meira Kumar.

"These are the matters of concern, how we discuss it, whether we discuss it in the first part—before the recess or the second part—all these are things to be decided," Advani said.