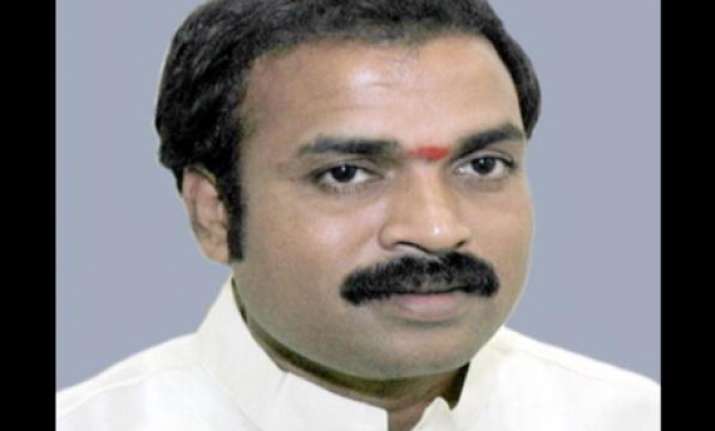 Bellary, Dec 4: Giving a jolt to ruling BJP in Karnataka, former Minister B Sreeramulu today won the Bellary (Rural) Assembly constituency byelection, which he contested as an independent after quitting the party, by a huge margin of over 46,000 votes.

Sreeramulu, a close associate of jailed mining baron and former minister G Janardhana Reddy, secured 74,527 votes and retained the seat which he had vacated protesting denial of a ministerial berth in the D V Sadananda Gowda Ministry.

BJP finished a poor third with its candidate P Gadilingappa losing the deposit managing only 17,366 votes behind Congress' B Ramprasad who garnered 27,737 votes in the triangular fight, seen as litmus test for the Reddy brothers, facing the CBI heat in illegal mining cases.

40-year-old Sreeramulu had resigned his Assembly seat in August in the wake of the Lokayukta report on illegal mining that indicting him, saying his pride has been hurt. He quit the BJP days before the November 30 byelection, result of which was announced today.

Sreeramulu was also angry the BJP has not sought clarifications from him the mining report. In later days, he bitterly criticised the BJP, vowing to decimate it in Bellary district.

"I don't believe it's my victory; it's a victory of the people", Sreeramulu told reporters after the declaration of the result.

Asked about the future course of action, Sreeramulu, who had in the run-up to the byelection indicated that he would float a regional party, said he would speak to Janardhana Reddy, currently lodged in Chanchalaguda jail in Hyderabad in connection with illegal mining case in Andhra Pradesh, and legislators and MPs.

The bypoll saw a fierce and feverish campaigning with the BJP suspending three of its MLAs, one MLC and two Lok Sabha MPs who actively backed Sreeramulu.

BJP had unsuccessfully tried to field Sreeramulu as the party's candidate but he chose to contest as an independent after consultations with Janardhana Reddy.

This was the first bypoll faced by the BJP after Sadananda Gowda took over from B S Yeddyurappa, who quit over the Lokayukta report on illegal mining.

Gowda has maintained that the outcome of the bypoll would not have any impact on the stability of his government.