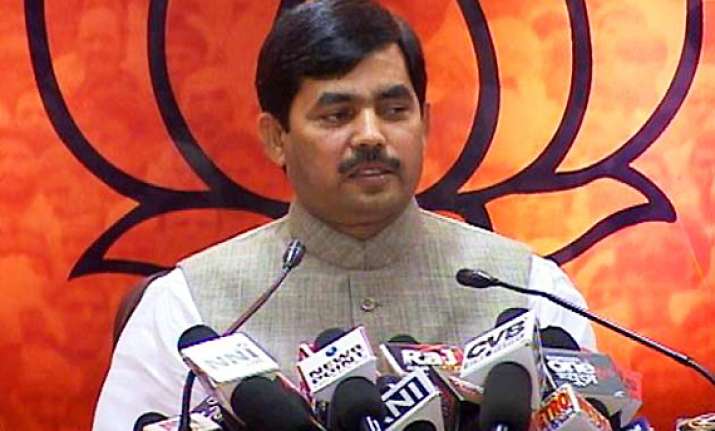 New Delhi, Feb 6: Stung by Congress General Secretary Rahul Gandhi's criticism of its senior leaders L K Advani and Narendra Modi on the issue of corruption, BJP today hit back saying he cannot see corruption at the Centre and has accepted defeat in Uttar Pradesh before the polls.

"Neither the BJP nor corruption in Congress governments are visible to Rahul Gandhi. Those who are involved only with themselves and their family cannot see others. Rahul Gandhi always says 'I' will change this, 'my' party, 'my' family. He is busy praising himself," BJP spokesperson Shahnawaz Hussain said.

Earlier, at a press interaction in Varanasi, Gandhi had hit out at the BJP on the issue of corruption and the Lokpal Bill.

The Congress leader said there is corruption in BJP governments in Karnataka, Uttarakhand, Jharkhand, Madhya Pradesh, Chhattisgarh and Punjab while Advani is taking out yatras across various states.

In reply to a question, Gandhi also said that when he proposed that the Lokpal be given Constitutional status, the opposition laughed at it. Gandhi attacked Gujarat Chief Minister Narendra Modi too, saying he had not allowed a Lokayukta to be appointed in his state.

Taking on Gandhi, the BJP said he has accepted defeat in UP even before the polls are over.

"Rahul has accepted that his party is fighting the polls to make Congress stand on its feet. In Delhi, the Congress government stands on the feet of BSP and SP. Today's statement by Rahul belies all earlier claims by the Congress that it has been revived since the 2009 General elections. Congress is still on its crutches in UP," Hussain said.