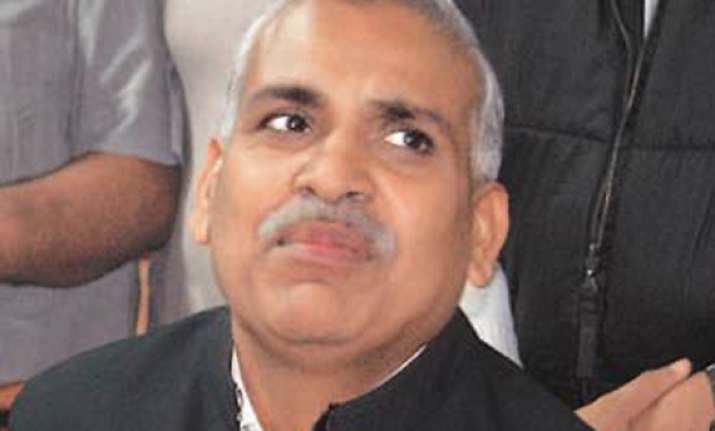 New Delhi, Jan 6: Even as in-house protests grew against the induction of former Bahujan Samaj Party leader Babu Singh Kushwaha, the Bharatiya Janata Party on Friday remained firm on its decision to have in its fold saying it was "not a hasty" step.

BJP president Nitin Gadkari is also in touch with party leaders like Yogi Adityanath, Maneka Gandhi, Kirti Azad and others who have opposed Kushwaha's induction. While sticking to his decision, Gadkari intends to give these leaders a hearing and emphasise on why  Kushwaha, an OBC leader, has been brought to the party-fold ahead of the Uttar Pradesh Assembly polls.

"One can definitely not call the decision to induct Babu Singh Kushwaha a hasty decision. I can assure that this was not at all a hasty decision," BJP spokesperson Nirmala Sitharaman said.

The BJP is also playing the OBC card, portraying  Kushwaha as a victim of U.P. Chief Minister Mayawati's politics.

Sources said the BJP feels that after Kushwaha was sacked, the welcome extended to him by the party will win it the sympathy votes of Kushwahas, Mauryas, Koeris and other Most Backward Castes in U.P.

"Kushwaha represents a very backward class community. He has come into the party and we have welcomed him... SP, BSP and Congress are not serving the MBCs. They are engaged in minority appeasement while OBCs feel their rights are being taken away," Sitharaman said.

Wary of the allegations being levelled against it of welcoming the corrupt within its fold, the BJP also made it clear it would not stand in the way of law.

"Kushwaha's induction into BJP is no immunity to him from the law. We have not said we will be giving him cover. Law will take its course," Sitharaman said.

The BJP insisted if  Kushwaha and other OBC leaders come into the party they will be welcomed but the party will not "protect" them from the law.

"There is a pattern emerging in which the OBCs are being denied their due," Sitharaman said.

Though dissenting voices from Adityanath, Gandhi, Azad and others have embarrassed the party, Gadkari is firm on his decision. However, he is said to be in touch with such leaders to impress on them that Kushwaha's induction would help the party electorally in coming polls.

BJP think-tanks are said to be of the view that a combination of upper caste and non-Yadav OBC votes will help it reach the 100-seat mark that will help it play kingmaker in case of a hung Assembly.

The party dismissed reports that its firebrand Hindutva leader Uma Bharti is sulking due to Kushwaha's induction.

"Neither was she angry then nor is she angry now...She will indeed be campaigning for the party in UP," Sitharaman said.

The BJP also hit back at Congress for the latter's comments that it should get a Lokpal in the party to search for corrupt leaders.

"Congress is ready for all this but will not give us a Lokpal," she said, referring to the Lokpal Bill which could not be passed in Rajya Sabha in the winter session of Parliament.

Sitharaman said the Congress should set its own house in order and then attack the BJP.

"Congress should clear the names of its Ministers facing corruption charges. Only after that would it be right for them to make comments," she said.