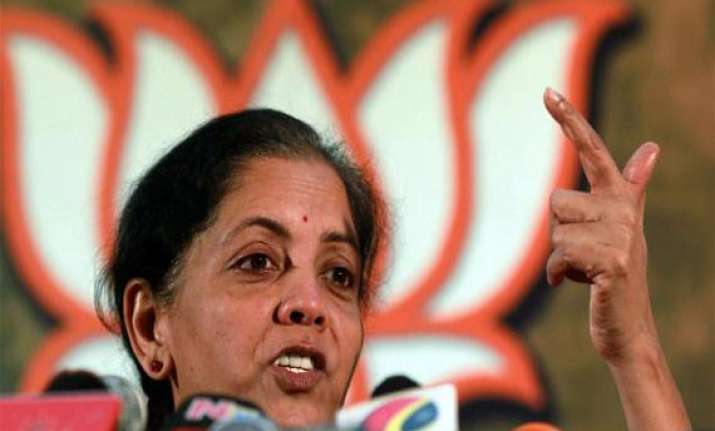 New Delhi: Hours after the serial blasts in Patna, BJP Sunday night blamed the Bihar government led by its former NDA ally JD(U) for "failing to provide" proper security cover for Narendra Modi's rally.
"Bihar government has failed in proper bandobast cover and law and order for a rally of this kind. BJP strongly condemns this," BJP spokesperson Nirmala Sitharaman told PTI.
Five people were killed and 66 injured in six serial bomb blasts near the venue of BJP's Prime Ministerial candidate Narendra Modi's rally earlier in the day.
In a veiled attack on Bihar CM Nitish Kumar, whose partyJD(U) parted ways with BJP in the state, she said, "We do not know whether it is due to indifference or negilgence or Bihar government was very laidback about this. Whatever (it may) be, Bihar government has definitely failed in providing proper security for the Gujarat CM and for the rally."
Criticising Bihar Police, she said, "We all know that Narendra Modi is a serious target of many terror groups. The rally, which was going to be attended by several lakhs of people...for a serial blast to happen is a complete indication that the Bihar state police has failed completely."
"He (Modi) is under Z plus security category and inspite of that, a serial blast happened in a place where only a few months ago Bodhagaya incident happened.
"The Bihar government and its appeasement policy has really thrown the entire rally at high risk," she alleged.
The BJP spokesperson took a dig at Bihar government, saying just few days ago it had claimed that Patna was safe.
"Only a few days ago, President Pranab Mukherjee had visited Patna and Bihar government had assured that capital of Bihar was very safe."
She alleged that certain mandatory security drills required before such rally were not carried out.