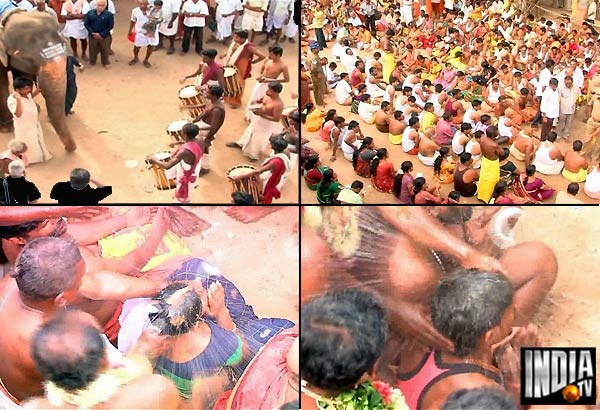 Karur, TN, Aug 5 : The annual Adi festival of Sri Mahalakshmi Temple at Mettumahadanapuram in the district was celebrated  with the chief priest breaking coconuts on heads of devotees as part of their fulfilment of vow.

More than a thousand devotees had coconut broken on their head while some sustained bleeding injuries in the process.

The event had attracted adverse comments from agencies such as the State Human Rights Commission in the past but the local administration did not intervene because of religious sensitivities involved.

The ritual is part of a two-day annual festival that is the highlight of the temple annals. A majority of the temple's 'kudipaadu' belongs to the 'kurumbas' and certain sections of the '24 Manai Telugu Chettiars.'

The day began with the 'Amman' returning from the ceremonial procession to the temple and the chief priest, A. Periasamy, performed abishekam with the sanctified waters brought from River Cauvery. A traditional lamp was lit on top of the temple flag mast.

As if in a trance,  Periasamy stood on a shoe of nails and then started breaking coconuts first on the head of seven elders each from the two main communities.

He went along the main enclosure breaking coconuts on the head of  nearly a thousand  devotees who undertook the ritual as part of fulfilment of vows. A large number of women participated in the ritual without any fear of injury.

A medical unit with ambulance and paramedics waited outside to attend to emergency needs but even the devotees who sustained bleeding injuries refrained from going in for treatment and preferred to apply turmeric or 'vibhuthi' (sacred ash) on the open wound.

Police arrangements were made at the venue and in the Mahadanapuram village for the festival.

A large number of devotees from various parts of the State and from Kerala, Karnataka and Andhra Pradesh participated in the festival.

Mahalakshmi temple is situated in Mahadanapuram,23 Kms. from Karur town. This temple is in a remote  village and  very few vehicles ply on the road.

The motorable road is well canopied on either side by coconut trees.

This temple is about 800 years old and this temple becomes a beehive of activity during the  Aadi  (Tamil calender month) festival.