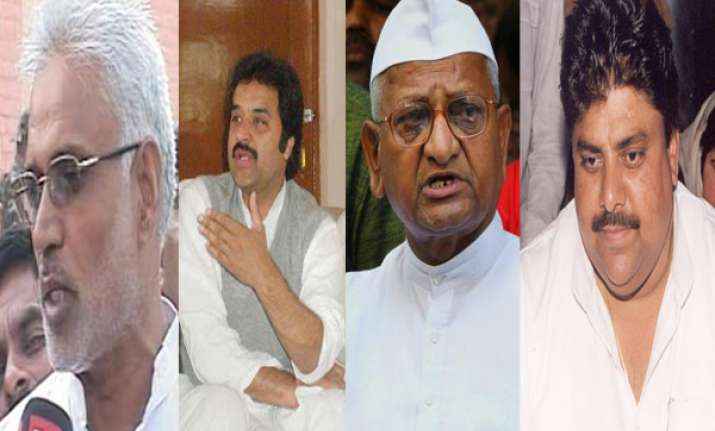 Hisar, Oct 17: Kuldeep Bishnoi, HJC-BJP combine nominee, today won the battle for the prestigious Hisar Lok Sabha by-election in Haryana in a tight race in which Team Anna vigorously campaigned against the Congress which lost deposit.

Bishnoi (42), son of former Haryana Chief Minister Bhajan Lal whose death caused the bypoll, retained the seat for the party defeating his nearest rival INLD's Ajay Singh Chautala (50), son of former Chief Minister Om Parkash Chautala, by a margin of 6,323 votes, out of the over nine lakh votes polled. 

Rubbing salt into the wounds of Congress, which was pushed to the far third spot, Anna Hazare asked the party to take cue from the result, pass Jan Lokpal Bill or else he would personally campaign against it in the upcoming Assembly elections, including in Uttar Pradesh.

"Hisar saw Team Anna's workers campaigning for the anti-corruption cause but next for the Assembly elections it will be 'me', Anna Hazare, who will personally rally for the cause," he said.

Ruling Congress nominee and three-time MP from Hisar Jai Prakash (58), a former Union Minister, finished third and lost security deposit by failing to secure one-sixth of the over nine lakh votes polled. He had won the seat last in 2004 as Congress nominee.

Thirty-seven other candidates, all independents, also lost their security deposit.

Bishnoi, whose Haryana Janhit Congress (HJC) tied up with BJP, secured 3,55,941 votes followed by Chautala with 3,49,618 votes and way behind was Jai Parkash, who polled 1,49,785 votes. It was essentially a triangular contest in a field with 40 candidates and a total electorate of 13.32 lakh.

For Jaiprakash, this time the result was a big blow as he could not match his 2009 performance as he polled around 54,000 votes less this time. In the 2009 polls, Jaiprakash polled 2.04 lakh votes while he got 1.49 lakh votes this time. 

With the jury still out on whether Anna Hazare and his team's anti-Congress campaign helped him, Bishnoi first claimed it had no impact on his performance but later conceded benefited him a little. He said Team Anna should have positively sought votes for him.

Leading Team Anna member Arvind Kejriwal, who hails from Hisar and held an intensive campaign against Congress in the constituency, "it is a referendum on Jan Lokpal Bill. Congress should take a lesson and now pass Jan Lokpal Bill." Thanking voters, Bishnoi said that Hisar had been a traditional seat won by a member of his family.

"The win is basically because of my father and family's track record. We have done a lot for Hisar," he said adding "the win today is a foundation stone for the formation of HJC-BJP government in the state in the future."

"(Chief Minister Bhupinder Singh) Hooda's (alleged) corrupt practices and caste politics resulted in ruling Congress nominee finishing at third place," he said. 

While Hazare sought defeat for Congress through a video appeal, Kejriwal was helped in the campaign by other key members of Team Anna Kiran Bedi and Manish Sisodia.  Congress downplayed its defeat saying it had not won the seat even during the last elections and dismissed the contention that the result betrayed the effect of Team Anna's call to people not to vote for its candidate over the Lokpal issue.

Party General Secretary in-charge for Haryana B K Hariprasad said the defeat in the constituency was "not unexpected" given the fact that in the last parliamentary elections too, Congress had secured third position.  Hariprasad said that the "sympathy factor" following the demise of Bhajan Lal, who represented the constituency and had been the Chief Minister thrice, played a role so also the social equations.

BJP hailed the victory of its candidates in various by-polls as people's verdict against a corrupt Congress government at the Centre but was loathe to give credit to Hazare and his team which campaigned in Hisar against the ruling party candidate.

When asked if some of the credit for Bishnoi's victory goes to Team Anna as well, party spokesperson Shahnawas Hussain replied in the negative. "I have read Anna's statements. He has appealed not for victory of any candidate but for the defeat of a party."

Bishnoi's father Bhajan Lal had won the Hissar Lok Sabha seat in the 2009 elections with a margin of 6,983 votes over his nearest rival Sampat Singh of the INLD, who later joined Congress shortly before 2009 Assembly elections. 

Leader of Opposition in Lok Sabha Sushma Swaraj thanked people of Haryana, particularly the electorate of Hisar, for supporting the BJP-HJC alliance and electing Bishnoi. "The BJP-HJC alliance will continue in future also," she said. 

Echoing her words, Bishnoi said, "people have voted for the alliance and alliance will go a long way." BJP leader Murli Manohar Joshi said the result clearly showed that tyhe people have voted against the Congress policies in tackling corruption.

"This is a victory for democracy," he said.

Union Finance Minister and senior Congress leader Pranab Mukherjee said, "a loss in any election is a sad thing. We shall have to analyse why we lost the bypolls and what are the reasons."

Team Anna member Kiran Bedi said "This is voters verdict.  Team Anna all along made the voters aware of the party position concerning the Lokpal bill. It claims no credit for anything, for that was not the objective.

"It only did what was a logical movement in order that such MPs reach parliament whose party presidents commit to support JLPB on the floor of the house. All others had given (in Hisar) except the Congress. And it was for voters to decide," Bedi said.

Out of the nine assembly segments Bishnoi led in five - Adampur, Hansi, Barwala, Hisar and Nalwa. Chautala led in remaining four - Uchana Kalan, Uklana, Narnaund and Bawani Khera. The Congress nominee remained third in all the segments.

Bishnoi was maintaining a lead of around 30,000 votes till the last few rounds of counting but at the end he had to be satisfied with a narrow lead of 6,323 votes.  The bypoll held on October 13 had witnessed a turnout of nearly 69 per cent with the Anna factor raising the stakes for the Congress.

Jai Prakash had told reporters before the conclusion of the counting that Team Anna's campaign had no impact here.  "Results will show that in a while," he said.  Chautala showed confidence of winning the seat even as counting was on and Bishnoi was maintaining a constant lead.

In the end he finished second.