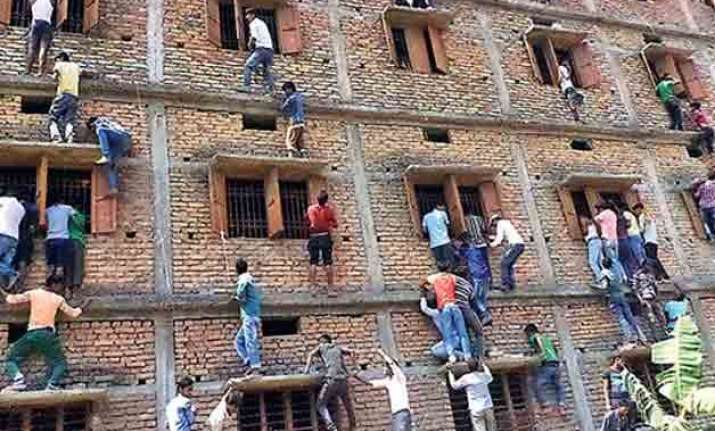 Patna: A day after being reprimanded by the Patna High Court, the Bihar government today enforced a crackdown and apprehended over 900 people, including students and parents, from different exam centres in the state for cheating in the ongoing matriculation examination.
Chief Minister Nitish Kumar admitted that reports of rampant use of unfair means in the ongoing matriculation examination has sullied the image of the state following which he passed strict orders to stop it.
"Pariksha me kadachar ke karan jaghasiyi hui hai...hamne kadachar rokne ke liye karwai ke aadesh diye hai (reports of cheating in examination has drawn bad name to Bihar...I have ordered to stop cheating in ongoing matriculation examination)," Nitish Kumar said.
His order for ensuring cheating-free matriculation examination had its impact today with the police apprehending 213 students and 712 parents, relatives, friends of examinees from different parts of the state, Additional Director General of Police (Headquarters) Gupteshwar Pandey told PTI.
He said six policemen, four from Vaishali and two from Jamui, were arrested during the day for aiding in cheating during examination at different centres.
A total of 551 examinees have been expelled across the state for using unfair means on a single day today and penalty of Rs 13 lakh imposed, the ADG said.
In Vaishali that had gained notoriety for large-scale use of unfair means and from where came the visuals of parents climbing three to four storeyed building to provide chits to their wards, stringent action was seen during the day.
 
The ADG said that in Vaishali a total of 81 students were expelled and 161 students, parents and helpers arrested.
One person on exam duty was also nabbed when he was helping in copying in Vaishali while a female official escaped, he said.
Four homeguard jawans were caught and a fine of Rs 3.20 lakh collected in Vaishali district during anti-cheating operations in the day.
With pictures of cheating in exam drawing nation-wide attention, Minister of State for Human Resource Development Upendra Kushwaha today said his ministry would seek a report from Bihar government over reports of rampant cheating during board exams in the state.
"The Union HRD ministry will seek a report from the state on the subject and give guidelines to conduct cheating-free examination," Kushwaha said