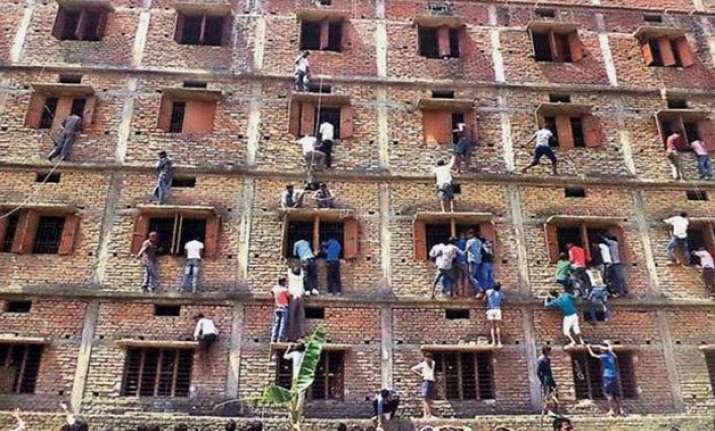 Hajipur/Bihar: Some would mock at it while others would term it as a mass-breach of law however; this is how parents in Hajipur and Nawada towns of Bihar help their children during board exams – By climbing walls of the centres where their ward is to appear for exam and passing chits to them.   ( Scroll down for video)
This too, with an excuse like "we have to resort to such things to help our children as the government teachers don't teach anything in schools. Most of the times they are absent", said a parent from Nawada justifying his act of helping his child in cheating during Thursday's Board exam paper.
And, even the authorities and policemen at the centres seem to support the wrongdoing as the "large-scale cheating" happens right under their nose and they are still not able to stop it.
They justify it by saying that the number of such friends and family members involved in wall-scaling is so large that they are unable to prevent it.
Though the authorities claim that they have debarred around 500 students from taking exams, but this does not hold the spirit of cheaters and their helpers.
Interestingly, Bihar has an anti-cheating law also which includes provisions for lodging a First Information Report and even arresting such offenders. Yet, such offences continue to happen unabated, that too by so many and right under the nose of police!
Some observers even allege that policemen accept bribes to allow such visitors who wish to get into the examination halls however, nobody comes out in open.
Although the Bihar's education minister PK Shahi has asked, "Can the government alone conduct fair exams without the support of society and parents?", but a yes, in this case is fully doubted as it seems to be an ongoing trend. The Union government has also asked the state government to share report of the incident.
Last year also more than 200 students were expelled after being caught cheating in Class 12th exams and more than a dozen parents who helped their children use unfair means were also arrested yet 75 per cent of the 13 lakh students who appeared for the 10th Board exams, passed !