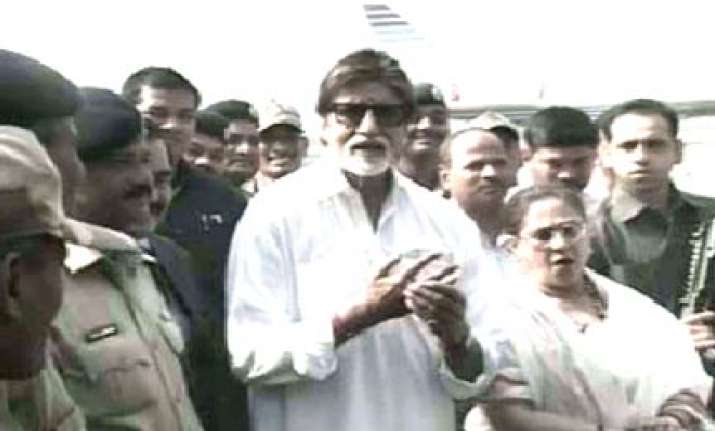 Bollywood mega star Amitabh Bachchan and his wife Jaya Bachchan visited Lord Jagannath temple at Puri on Sunday morning and offerred prayers.  
Accompanied by famous flute maestro Hariprasad Chourasia, the Bachchan couple visited the temple and offered prayers to Lord Jagannath, Lord Balabhadra and Devi Subhadra in the sanctum sanctorum of the temple during public darshan called Sahan Mela.
Arrangement for refreshments and their brief stay was made in the  Governor House at Puri, official sources said.
But instead of going there, Amitabh, who did not want to create problems for the devotees, asked the accompanying DSP  RK Paikray to lead him straight to the temple.
On his arrival in Puri by road from Bhubaneswar , Bachchan was accorded a warm welcome by hundreds of fans who had gathered near the temple and on the Grand Road to get a glimpse of the charismatic hero.
Though the local administration had tried to keep the visit under wraps, news of his arrival in Puri  spread like wildfire and fans gathered in large numbers. The police had a tough time to hold back the fans while the Bachchan couple was escorted inside the temple.
Though no barricade and special arrangement was made for the visit, hundreds of policemen made a virtual wall around the star couple to ensure their safe movement.
The couple, clad in typically Bengali dress, was escorted by temple officials and police inside the temple. They went amidst the devotees inside the sanctum sanctorum (Garbhagriha) and offered prayers to the Lord. The couple then performed Parikrama of the complex. After spending about 30 minutes in the temple they left Puri  by road to Bhubaneswar .
Surprisingly, there were no panda (traditional family priests) seen with the couple. They neither paid any Dakshina nor registered their presence in the temple by signing the visitors book maintained by their priest panda.
According to sources, Jaya Bachchan last visited the Jagannath temple along with her family way back in 1968. Shortly after, she got her first break in the cine world, while for Amitabh it was his maiden visit to Orissa  and to Puri