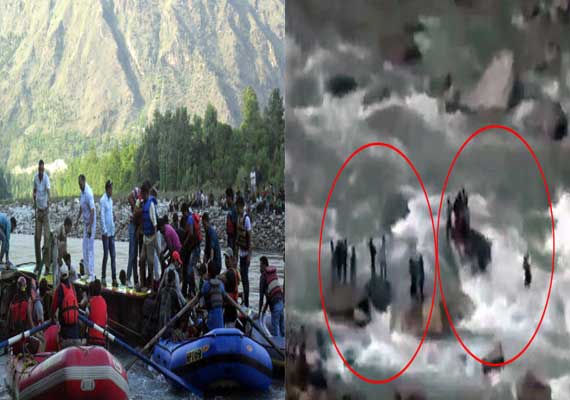 Hyderabad: The body of one more victim of the Beas river tragedy in Himachal Pradesh reached Hyderabad while rescue teams Thursday fished out two more bodies and continued search for 16 missing students.
The body of Sheikh Mohammed Sabir Hussain, recovered Wednesday, was flown in Thursday. His parents, looking shell-shocked, accompanied the mortal remains of Hussain.
Relatives and friends of Hussain were present at the Rajiv Gandhi International Airport here. The body was later shifted to Hussain's residence in Serilingampally on the city's outskirts.
Hussain's father Sheikh Raja is a railway employee. The 22-year-old was among 24 students of V.N.R. Vignana Jyothi College of Engineering swept away in the river Sunday when water was released from a hydroelectric power project.
The bodies of T. Upender of Khammam district and G. Arvind Kumar of Hyderabad were also recovered Thursday. With this, the rescue workers have recovered eight bodies.
A statement from the Telangana government Thursday night said due to bad weather, the bodies were being brought to Delhi by road. The mortal remains are likely to reach Hyderabad Friday morning.
National Disaster Management Authority vice chairman Shashidhar Reddy visited the accident site and witnessed the rescue operations. "The search operations are going on very briskly with specialised teams and special equipment like underwater cameras," said the statement.
Telangana Home Minister N. Narasimha Reddy, camping in Himachal since Monday and TRS MPs A.P. Jithender Reddy and Vinod Kumar Boinapally had a meeting with Shashidhar Reddy and the chief of the rescue operation teams in Mandi district.
The Himachal Pradesh government has provided a toll free No. 1800-180-8024 for people to know the status of the rescue operation.
The Telangana government had also deputed Additional Director General of Police Rajiv Trivedi to coordinate relief work.
According to a separate statement by the Andhra Pradesh government, NDRF and Indo-Tibetan Border Police (ITBP) teams were continuing rescue operations.
An Unmanned Aerial Vehicle (UAV) is also being used to take images to locate the bodies.