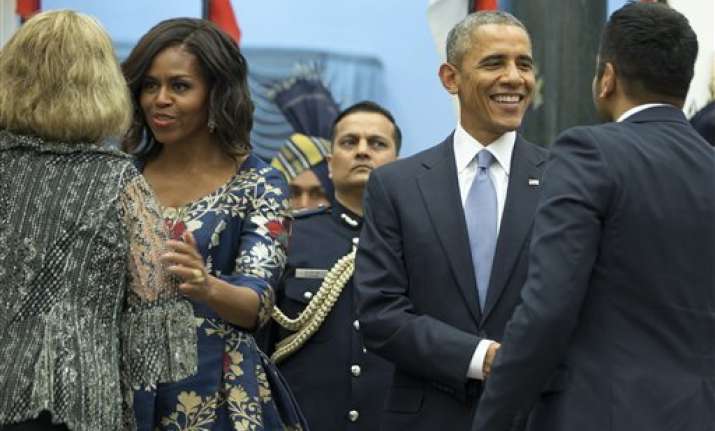 New Delhi: With his address at the Siri Fort auditorium US President Barack Obama will conclude his three-day visit to India today.
In his address, President Obama would speak on how to tap the energy of the people of India and the US, and to turn that into positive progress on the issues that matter in people's lives, a top official has said. The address, which will start at 10.30 am, will be followed by a question and answer session.  
Obama will then meet Satyarthi backstage, who along with Pakistani activist Malala Yousafzai, was awarded the Nobel Peace Prize in 2014 for their struggle against the suppression of children and young people and for the rights of all children to education.
The First Lady will also attend the event at Siri Fort auditorium.  
US President's visit to India reflects the fresh warmth in the ties between the two countries. While he was hosted thrice at the Rashtrapati Bhavan by President Pranab Mukherjee, his personal rapport with Prime Minister Narendra Modi was also evident.
In his remarks, the President will also speak on some of the other common attributes that the US and India have. PM Modi and President Obama also recorded a joint radio address- Mann ki Baat- which will be aired at 8 pm today.  
Indian Prime Minister Narendra Modi broke protocol to receive President Obama and the First lady. Both the leaders met at least six times over last two days.  
US and India also cleared the decks for the implementation of the vital civil nuclear deal which had been stalled for six years. They have worked out a new framework for defence ties and provided a boost to other key issues, including climate change and the use of renewable energy.
After his speech at Siri Fort, Obama and the First Lady will leave for Saudi Arabia where he would meet the new Saudi king and personally expresses his condolences over the death of King Abdullah.
Obama has cancelled his pre-scheduled visit to Agra.