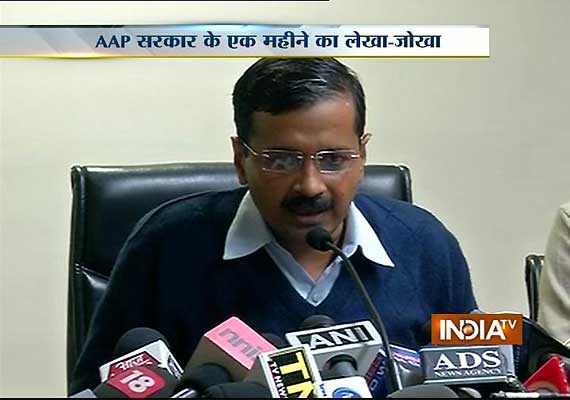 New Delhi: As his government completed one month in power, Delhi Chief Minister Arvind Kejriwal today said controversies surrounding the AAP dispensation never affected its functioning and asserted that his team did a good job in addressing various challenges facing the city.  
In a press conference which was disrupted by a Congress MLA, the Chief Minister claimed his government has done far more work for the people in the first month than its predecessors and said rooting out corruption, ensuring security to women and enhancing water distribution network were among his top priorities.
"Your surveys have shown... it is clear people are happy with the performance," he said, adding a number of key decisions have been taken to help the common man like providing 20 kilo litres of free water per month to each household besides providing power subsidy to a large section of consumers.
On his government's decision for an investigation by a Special Investigation Team into the 1984 anti-Sikh riots, he said a thorough probe was required as demanded by the Sikh community.
Kejriwal's press conference was disrupted by Congress MLA from Okhla Asif Khan after Kejriwal, in reply to a question, said he was not considering appointing an SIT to investigate the Batla House encounter in 2008.
He said as a court has already given its verdict in the case, there was no need for a probe again.  On corruption, Kejriwal said his government will come down hard on corrupt officials but at the same time will protect the honest officers.
"We are considering ways to protect the honest officers," he said without elaborating.