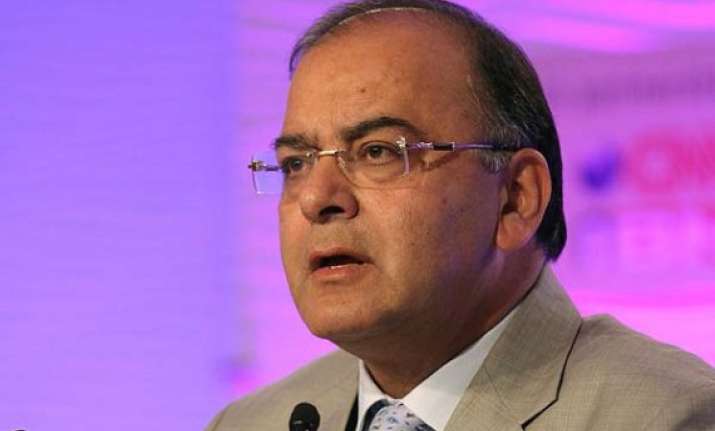 New Delhi: Ahead of the hearing on coal blocks allocations issue on Monday, Finance Minister Arun Jaitley today exuded hope that a decision on the fate of the 218 coal blocks is taken expeditiously post-judgement.
"We cannot allow the fate of the coal blocks to hang in mid-air ... They need to be utilised for the purpose for which coal is utilised and therefore whether the existing allotees are to use it or it is to put to a fresh allotment process, I do hope that this decision does not linger on. The future fate of these is decided expeditiously," Jaitley told reporters here.
If resources cannot be utilised, its adverse impact is inevitable and therefore "we hope that this uncertainty should not continue for long time", he said.
His remarks followed the Supreme Court on August 25 holding that all coal block allocations made since 1993 till 2010 before pre-auction era during previous NDA and UPA regimes have been done in an illegal manner by an "ad-hoc and casual" approach "without application of mind".
He said, "The silver-lining in the judgement is that it moves the system towards the fairer methodology of allocation of resources. It takes away from the government the power of arbitrary allocation of resources," Jaitley told reporters here.
Asked about the fate of the blocks, Jaitley said, "This depends on how and what shape the litigation in the Supreme Court further takes."
The apex court, which had examined the allocation of 218 blocks, said, "Common good and public interest have, thus, suffered heavily" as "there was no fair and transparent procedure, all resulting in unfair distribution of the national wealth."
The next hearing in the matter is scheduled for September 1.
Jaitley also said comprehensive measures to boost domestic coal output is underway including sufficient supply to power projects besides rationalisation of coal linkages to reduce power cost.
"Comprehensive measures for enhancing domestic coal production are being put in place. An exercise to rationalise coal linkages to optimise transport of coal and reduce cost of power is underway," he said.
The remarks come at a time when the country is battling to provide sufficient fuel to coal-starved power plants against a backdrop ever widening demand-supply gap.
Jaitley said, "Adequate quantity of coal will be provided to power plants which are already commissioned or would be commissioned by March 2015."
Earlier this month, the Power Ministry had moved a draft Cabinet note to ensure coal linkages for power projects which were already commissioned or were likely to be commissioned by March.
The Power Ministry had sought suggestions of various ministries like coal, finance, law and environment on its draft note that seeks to ensure coal supplies for the thermal power plants, as per sources.
The demand-supply gap of coal had touched 171 million tonnes in 2013-14, which was met through imports. With less output and increasing demand for coal, it is likely to reach 200 MT by 2016-17.
Commenting on pro-business measures in the coal sector, he said, "Anthracite coal, bituminous coal, coking coal, steam coal and other coal to attract 2.5 per cent basic customs duty and 2 per cent CVD to eliminate all assessment disputes and transaction costs associated with testing of various parameters of coal."
Basic customs duty on metallurgical coke increased from Nil to 2.5 percent in line with the duty on coking coal, he added.