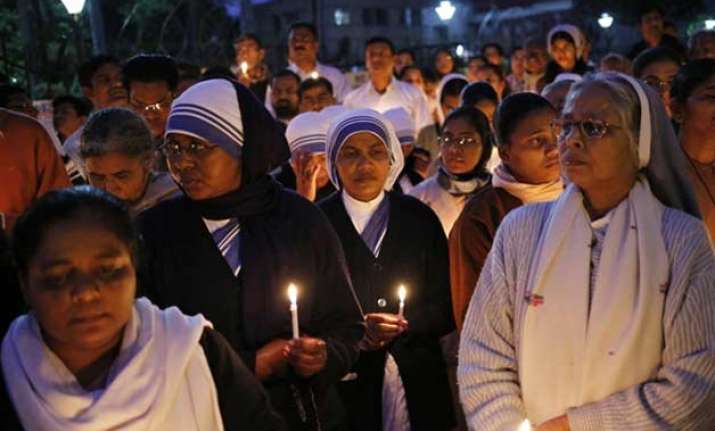 Kolkata: The wife of Gopal Sarkar, one of the two men arrested in connection with the nun gangrape case, has identified seven accused persons by their photographs caught on the CCTV camera at the convent school on March 14 night, a senior CID official said on Saturday.
"These persons had stayed at Sarkar's home for a few days and that's how his wife knows them. She has identified the seven persons by the photographs of the culprits caught on the CCTV recording at the school," the officer told PTI on condition of anonymity.
Rest of the culprits, who were involved in the alleged gangrape of the septuagenarian nun at Ranaghat in Nadia district have been identified and would soon be nabbed, he said. It has been only two years that Sarkar and his wife, both Bangladeshi nationals, were staying at Habra in North 24 Parganas district where they had their relatives from the neighbouring nation frequenting them, he said.
"We have got several information regarding the rest of the lot involved in this incident and their whereabouts. We think some of them have fled to Bangladesh and a couple of them are hiding in one of the neighbouring states," he said. Among the accused, who were at run, a couple of them hold Bangladeshi passports while others had crossed the border illegally, he said.
CID officials said that both Sarkar and Mohammed Salim Sheikh alias Salim, the second person arrested in this connection, were today interrogated together. "There are many discrepancies in whatever the two have been telling us during their interrogation. But it was understood that the rape was not a pre-planned one but a fallout of the resistance they faced during the dacoity at the school," they said.
The CID was planning to re-construct the March 14 incident at the Jesus and Mary Convent School in Ranaghat to speed up the interrogation, they said. Both Salim and Sarkar were arrested by the CID from Mumbai and Habra respectively on Thursday.