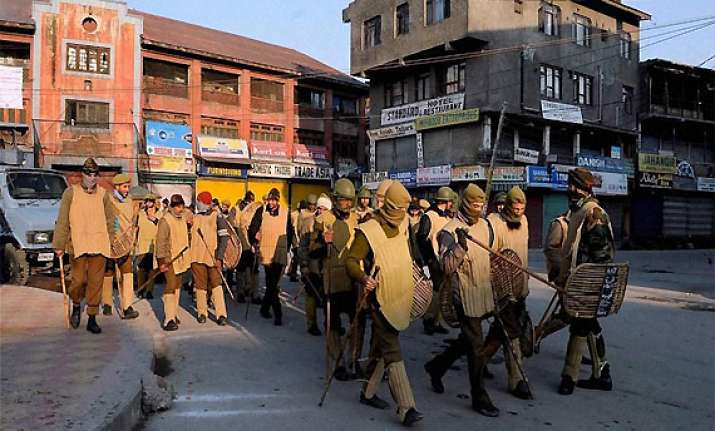 Jammu, Aug 9: One person was killed and over 24 were injured in clashes between two communities in Kishtwar town of Jammu region on Eid-ul-Fitr Friday after about 500 villagers raised pro-independence slogans.
The mobs torched over two dozen shops, some vehicles, a petrol pump and government offices before the army was called in to clamp an indefinite curfew in the town.
Police sources said members of the mobs fired at each other, in which one person was critically injured and later died.
"Neither security forces nor the army fired at the mobs. Two columns of the army were moved in after the situation turned ugly. The town is calm now after an indefinite curfew was imposed," a police officer told IANS.
Immediately after reports of the communal clashes, state Director General of Police (DGP) Ashok Prasad, Commissioner (Home) Suresh Kumar and additional DGP (Coordination) P.L. Gupta rushed to Kishtwar to take stock of the situation and supervise law and order.
Police exercised caution, using only batons and tear gas shells to disperse the rioters, who continued to indulge in violence despite police intervention.
On the district administration's request, two columns of the army were deployed.
The trouble started early Friday on Eid-ul-Fitr when a procession of around 500 people from Hullar, Bandna, Punoo and Bhata villages took out a procession in Kishtwar town, 220 km from winter capital Jammu, raising pro-independence slogans.
This prompted members of another community to pelt stones at the procession at Kulid chowk in the town.
As the news of the clashes spread to the Eidgah grounds where people had gathered to offer Eid-ul-Fitr prayers, many of them joined the violence.
The clashes broke out in Kuleed area and soon spread in the district, police said, adding the two groups indulged in stone-pelting and arson in which 10 shops were set on fire.
Curfew has been imposed in the area, Divisional Commissioner, Jammu, Shant Manu
said.
Police and CRPF personnel rushed to the area and used batons and teargas besides firing in the air to disperse the warring mobs gathered in various parts of the district, 226 kms from here.
The situation turned ugly when police was fired upon from homes, the sources said, adding a list of Village Defence Committee members was drawn up quickly so that the arms given to them could be withdrawn.
According to the reports, a group of people, raising anti-national slogans after the Eid prayers, was attacked by another section of people in Kuleed area leading to tension.
Besides the shops, a truck and a hotel belonging to a kin of MLC were burnt down in the arson.
Jammu and Kashmir Chief Minister Omar Abdullah directed senior state and civil officials including the Police Chief Ashok Prasad and Chief Secretary Mohammad Iqbal Khandey to rush to the scene and try and control the situation.