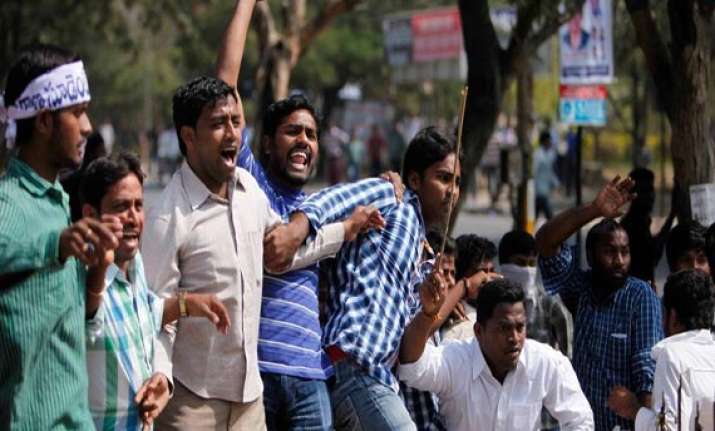 Hyderabad: The leaders of anti-bifurcation government employees in Andhra Pradesh today vowed to intensify their agitation, as protests against the proposed creation of Telangana state continued across the coastal Andhra and Rayalaseema regions. 
Representatives of employees associations and other pro-united Andhra Pradesh organisations met in Guntur yesterday and announced agitation programme.
The agitation would be organised in a phased-manner from August 19; a road blockade would be enforced on August 20, they said.
They reiterated their demand that all Union Ministers and MPs from the two regions quit to put pressure on the central leadership of Congress which has favoured creation of Telangana state.
Anti-bifurcation supporters conducted demonstrations, sit-ins, vehicle rallies and other forms of protest across the two regions.
At some places, bullock cart processions with dry paddy on display were organised, to symbolise the fear that farmers outside Telangana may not get irrigation post-division.
State minister Thota Narasimham's wife Vani, who was on hunger strike for the last six days at Kakinada in East Godavari district, was forcibly shifted to hospital in the wee hours today as her health started deteriorating. She broke her fast there.