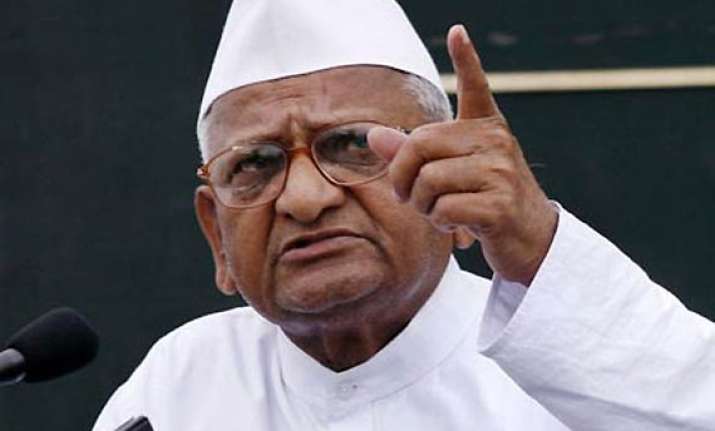 New Delhi, Aug 14: Challenging the Congress to prove the allegations of corruption levelled against him, social activist Anna Hazare on Sunday announced that he would continue his indefinite fast until he is either cleared of the charges or an FIR lodged against him.

"I will continue with his proposed fast even if civil society's version of Lokpal bill is cleared in Parliament,'' he told reporters here soon after the Congress unearthed the 2005 Justice P.B. Sawant Commission report that had found him guilty of misappropriation of funds.

"I want the government to lodge an FIR against me and conduct an inquiry," he said while describing the allegations as "lies".

Hazare said he will not call of his proposed fast from August 16 on Lokpal issue till his name is cleared or the charges are proved.

"Even if Jan Lokpal Bill (the version of civil society) is cleared in Parliament, I will not call off my indefinite fast, till the charges levelled against are proved or my name is cleared. Is this how people are maligned?" Hazare asked.

"They (Congress) indulge in corruption and ask us the source of money. People of Maharashtra know how I get the money. For the past 20 years, I have been in social service. I keep a bag and people donate from Rs five to Rs 10 and this is how I collect money. Every thing is accounted and is on internet," he said.

Hazare challenged the Congress, particularly spokesperson Manish Tewari and general secretary Digvijay Singh to make public the names of the people who donated to the party fund.

The anti-corruption crusader held a press conference after the Congress alleged that Justice P B Sawant Commission had ripped apart the "moral core'' of  Hazare as it "found him steeped in corruption from head to toe'' and asked him to clarify its "serious findings" against him and his trusts before launching the agitation.

Hazare said the Commission had not pointed fingers at him and instead named three of the four then ministers of Maharashtra against whom there were complaints. Yes, the money was spent on my birthday celebrations which belonged to Hind Swaraj Trust but it was returned to the Trust. It cannot be called corruption, he explained.

Obviously hurt at the allegations levelled against him, Hazare said he had fought against corruption for the whole of his life and now he was being charged of corruption. It is only mud-slinging, he said adding that it was him who had demanded an inquiry against the four State Ministers and when one of them had accused him of being corrupt, he demanded that his name be also included in the list of those to be enquired. So far, no action has been taken which I have been demanding, he told the reporters.

According to Hazare, eight Chartered Accountants had searched his offices in Maharashtra and taken away half a tempo load of papers but still found nothing.

Reiterating that he would go ahead with the indefinite fast from Tuesday, Hazare, however, said it would be peaceful and appealed to his followers to ensure that there was no violence and no damage to public property. Anyone found indulging in such an activity would not be part of the movement, he added.

Responding to queries on the kind of "language'' used by him in his letter to the Prime Minister,  Hazare said he was highly influenced by Gandhi and believed in his ideology of ahimsa but when someone did not understand Gandhian language then it became necessary to speak the language of Shivaji.