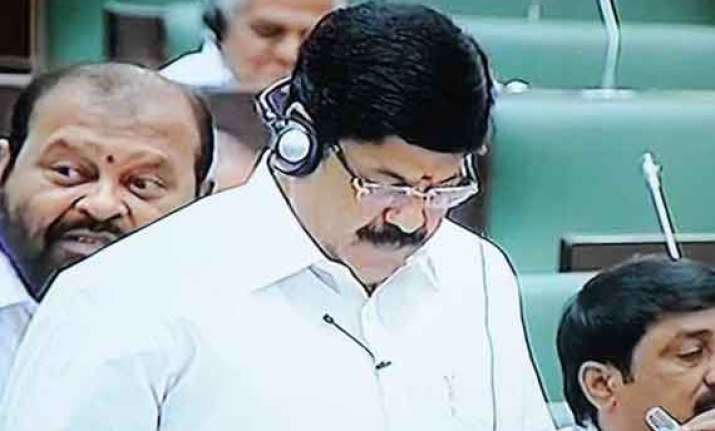 Hyderabad : Andhra Pradesh Finance Minister Anam Ramanarayana Reddy today proposed a vote-on-account budget of Rs 1,83,129 crore for 2014-15, with an estimated revenue surplus of Rs 474 crore.  "For the financial year 2014-15, the government proposes an expenditure of Rs 1,83,129 crore; non-plan expenditure is estimated at Rs 1,15,179 crore and plan expenditure at Rs 67,950 crore.
"Estimated revenue surplus is Rs 474 crore and fiscal deficit is estimated at Rs 25,402 crore, at 2.6 per cent of GSDP," he said in his budget speech in the Legislative Assembly.
The estimates of 2013-14 indicate a revenue surplus of Rs 1,023 crore, Reddy said, adding that the fiscal deficit in 2013-14 is estimated at Rs 24,487 crore, which would be 2.87 per cent of GSDP.
He said the final accounts of 2012-13 show a revenue surplus of Rs 1,128 crore and fiscal deficit is well within the FRBM Act at Rs 17,508 crore, which is 2.35 per cent of GSDP.
The budget speech was disrupted by members of the Telangana Rashtra Samithi who trooped into the well of the house, while Telangana ministers were on their feet in protest against Chief Minister N Kiran Kumar Reddy getting the Telangana bill rejected by voice vote in the last session of the Assembly.
Telugu Desam Party members from Telangana also stood in the well holding placards for some time.  The minister chose not to complete the budget speech in view of the protests and indicated it could be treated as read.