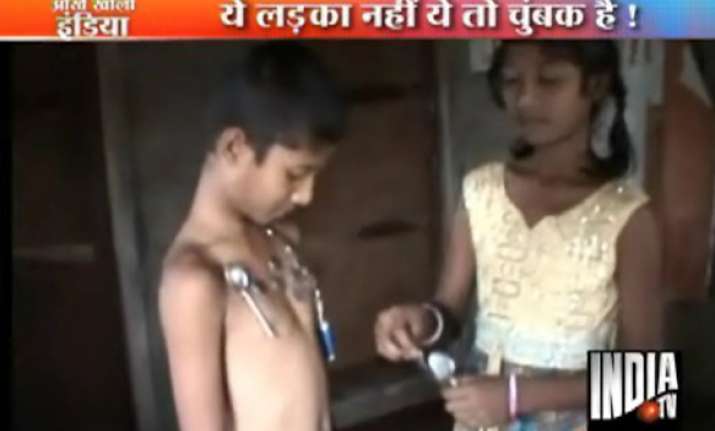 Anantapur, Andhra Pradesh, Jul 13 :  Ten-year-old  Pavan Kumar, a student of class 6 in Sevamandiram village of Hindupur Mandal in Anantapur district, can attract metal objects to his body which acts like a magnet.
 
Household objects such as spoons, knives and forks cling to his skin with almost supernatural ease.
 
The idea that a person could generate a strong magnetic field is bizarre, but what's even stranger is that other things stick to him too, such as keys and small flat glass objects.

Pavan Kumar is only boy in India who has been claiming this ability of being magnetic body.

At this point of time there is no evidence yet from any part of India that anyone else, is magnetic.

The experts say that the key to understanding this phenomenon lies not in magnetism nor in any sort of mystical ability but instead in the physical law of friction.

Earlier Pavan Kumar realized that his body has some magnetic power. But he never concentrated over that ability.
 
It was 11-year-old Paulo David Amorim of Brazil who inspired Pavan Kumar to check the adhesive abilities of his body.

After reading about Paulo Pavan got an idea to check his body's abilities. When he went home and tried that he surprised to see that objects such as spoons, knives and forks were clinging to his skin.

Family members at first did not believe when Pavan Kumar told about the abilities of his 'magnetic' body.

When Pavan told his father about Brazilian boy he checked the abilities of his son. He and his family members then were in a dilemma whether to feel happy or feel concerned. They were worried that whether  the boy was facing any health problem. But Pavan is quote healthy and normal.

The secret behind these wonder boys  having magnetic body would be known only when a thorough medical check up is done.