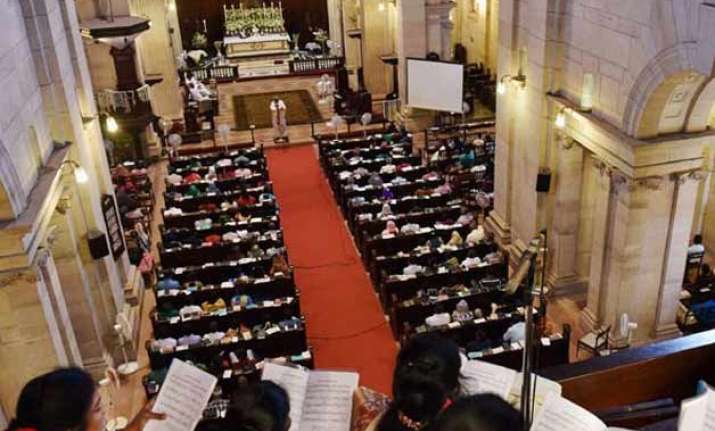 New Delhi: The Christian community celebrated Easter on Sunday with prayers and sumptuous meals, with police providing protection to all major congregations.
While some Christians attended the Easter vigil a day earlier, large numbers of people took part in the morning mass in churches all across the city.
Special Commissioner of Police Deepak Mishra said the force had been told to maintain "a strict vigil" at all the churches in the city to avoid any untoward incident.
"We have deployed adequate officials and armed police personnel at every church. A PCR van has been stationed outside many churches," Mishra told IANS.
M.S. Stanislaus, secretary of the Federation of Catholic Association, said the recent attacks on some churches here made the government step up security outside Christian institutions.
"Before Easter a delegation spoke to Chief Minister Arvind Kejriwal and Delhi Police Commissioner B.S. Bassi. Now onward security will be deployed outside every church on every Christian festival," Stanislaus told IANS.
But Rev. Mohit Hitter of St. James Church near Kashmere Gate, one of the oldest churches in the capital, said there was no link to the police deployment on Sunday to the recent acts of vandalism.
"Every year we have such security on festivals like Christmas, Good Friday and Easter," he told IANS.
A community member of St. James Church said: "Of course the increased security at churches is in the backdrop of the recent attacks on churches and Christian schools.
"The deployment shows that the government is concerned about the safety issues of Christians."
Rev. Hitter explained the significance of Easter.
"Easter is the day when Jesus rose up from the dead. We call it his resurrection and believe that all those who die one day will be resurrected," he said.
Speaking about the festival, 27-year-old John Mathew said people celebrate it by making and distributing chocolates to children. "The egg today holds great significance as it signifies life."
Jennifer Richards, 32, said Easter holds a great message to the people. "This day, Jesus rose from the dead. It tells us that we should not be bogged down by challenges in life."