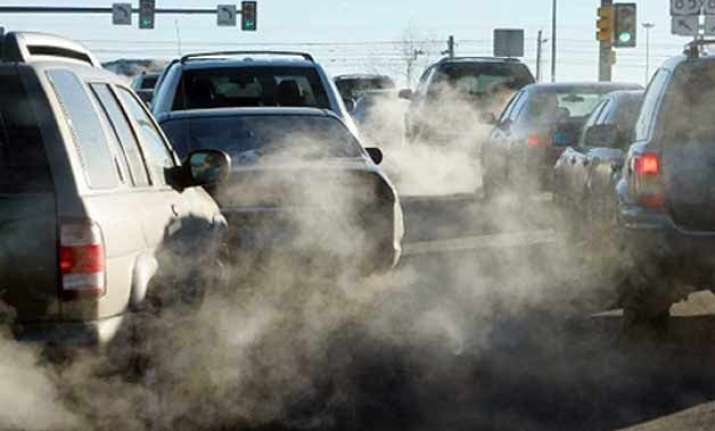 New Delhi: Different studies by Central Pollution Control Board (CPCB) and Uttar Pradesh state pollution control board suggest that the pollution level in Delhi-NCR region has crossed the normal safety limits. The air quality of the region is not only the worst among big cities across the world, but the air in the region has very high levels of benzene, an organic carcinogenic gas.
The revelation about dangerous benzene level has been made in a 68-day study of monitoring stations in NCR by CPCB.
The report has been submitted to the National Green Tribunal (NGT). The average benzene level in Delhi is found to be 14 micrograms per cubic metre, almost three times higher than the safe limit of 5. The CPCB study was conducted from December 5, 2014 to February 10, 2015. Though, only four cities- Delhi, Gurgaon, Faridabad and Rohtak were included in the study due to lack of sufficient number of monitoring stations.
Benzene is a compound of crude oil and petrol and is emitted from vehicular exhausts. Evaporation from petrol filling stations can also cause benzene levels to rise. Benzene can be harmful even at trace levels. Studies in the past have linked benzene to certain kinds of lymphomas, a cancer that begins in immune system cells called lymphocytes.
Studies by CPCB and Uttar Pradesh state pollution control board have concluded that the pollution level in Delhi-NCR region is well above the safe level. PM 2.5 levels in Delhi and its adjoining cities are at dangerous level and almost double the safe level (60 ppm). PM 2.5 are pollution particles that are less than 2.5 microns in size, small enough to easily enter the body and get lodged in the lungs.
The way to control benzene level in the city is installation of recovery systems at petrol pumps. Indian Institute of Technology, Kanpur has been asked by Delhi Pollution Control Committee to study the reasons for high benzene levels in the city.
Taking cognizance of the report by UP state pollution control board, the state government has asked the UP NCR administration to draw up a plan to reduce emissions. The study has found that Ghaziabad, Gautam Budh Nagar, Kanpur, Agra, Singrauli and Varanasi-Mirzapur critically polluted.
UP Chief Secretary Alok Ranjan told a leading daily that he has ordered district magistrates to formulate and implement the plan. Noida DM N P Singh said that officials had met to discuss the issue and have identified the major causes of pollution. The cause of pollution has been identified as the increasing number of vehicles, resultant traffic jams and the absence of a solid waste management plant in Noida.