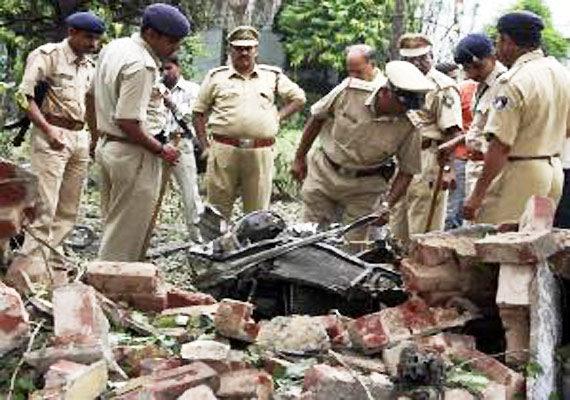 Aurangabad/Mumbai, Mar 26: In a major success for Maharashtra ATS, it arrested a fugitive suspect in 2008 Ahmedabad blasts that claimed 56 lives after gunning down his accomplice in an encounter in Aurangabad today that also left a constable injured, police said.
The gang, headed by Abu Faizal, a former member of the banned Students Islamic Movement of India (SIMI), had also reportedly plotted to eliminate the judges of Allahabad High Court who had pronounced the verdict in the Babri Masjid case, police said.
The group, according to police, had carried out a spate of bank robberies in Madhya Pradesh and used the money for terror funding. It was planning to create a base in Maharashtra, sources said.
Acting on a tip-off that the gang would arrive in Himayat Bagh area of the town, an ATS team led by Deputy Commissioner of Police Naveen Reddy laid a trap.
When alleged Indian Mujahideen member Mohammed Abrar Babu Khan (32), suspected of involvement in the Ahmedabad blasts, and his aides Khaleel Qureshi (20) and Mohammed Shakeer (32) reached the place at around 12.30 PM, the police team commanded them to surrender.
The trio opened fire at the police, who returned it, killing Khaleel and wounding Shakeer in the thigh.
Shakeer is undergoing treatment at the Government Medical College and Hospital in Aurangabad, while Abrar did not receive any injury.
Earlier reports had said both surviving members of the group were injured in the encounter. The reports had also described all three as suspects involved in the Ahmedabad blasts.
ATS head constable Aarif Shaikh Ismail was also injured on his left shoulder during the encounter.
"Shakeer and Abrar are now in our custody on charges of attempt to murder," said an ATS official.
Abrar was in contact with the home-grown terror outfit IM through one of its key operatives Abdul Subhan Qureshi alias Tauqueer, wanted in several cases, police said.
After the arrest of Abu Faizal, a former SIMI member, who headed this group, Abrar and Akhil Khilji had taken over the charge.
"We had information that the gang was planning to set up a base in Maharashtra and was ferrying between Aurangabad, Jalna and Buldhana in the state. For the past two to three months, we were working on this piece of information. Today, we had inputs that the gang members would come here following which a trap was laid," the official said.
Two 7.65 mm pistols and 11 live rounds were recovered from deceased Khalil, police said, adding a pistol and four live rounds each were seized from Abrar and Shakeer.
Abrar was wanted in 2008 Ahmedabad bomb blasts, while two others were booked under Unlawful Activities Prevention Act in Madhya Pradesh a few years ago, police sources said.  However, ATS did not reveal the exact role of Abrar in the blasts case.
The trio was suspected to have undergone terror training in Kerala, police said.
This group was also involved in a number of cases including bank robberies, killing of two constables, besides attempt to murder a BJP and a VHP activist in Madhya Pradesh.
Ahmedabad was rocked by 21 bomb blasts in July 2008 within a span of 70 minutes in which 56 people were killed and over 200 injured.