Follow us on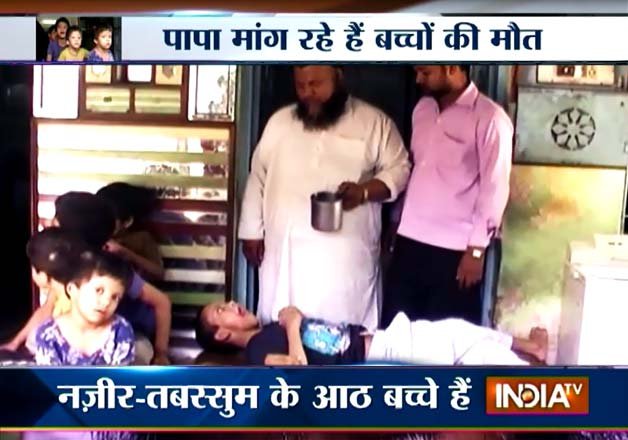 Agra: A man from Agra has written a letter to President Pranab Mukherjee seeking his permission for euthanasia for his 6 out of 8 children aged between 8 to 18 years.
42-year-old Mohammed Nazir, father of kids, said that his children have been diagnosed with debilitating neurological disorder and it has almost paralysed their lower bodies.
Nazir, who works at a sweet shop in the city, said that he cannot afford the treatment.
He has also appealed to Prime Minister Narendra Modi to provide help for the treatment of all kids.
 
"I have written to President seeking euthanasia or Prime Minister Modi saheb provide medial aid," he said.
"All kids were born healthy... all were normal for two years. Later they started developing complications, their bones are very weak. They began falling ill when they turned 4 or 5. They are unable to stand and walk on own," he added.
Tabassum, 36, mother of kids, said that the financial condition is not favourable and hence they have asked for mercy killing.
"They can't eat on own... we have no money to afford the treatment and also to look after the family," she said.
Doctor SK Upadhyay said that the disease is incurable. "This is incurable but with the help of drug this can be controlled to a limited period."
A doctor in Delhi, according to Tabassum, said that all children had this condition because she and her husband are cousins. The lady, however, said that she doesn't believe in this fact saying, "My brother is married to his cousin but their children are normal."
Nazir also met AIIMS doctors but his financial condition forced him to stop the treatment midway.