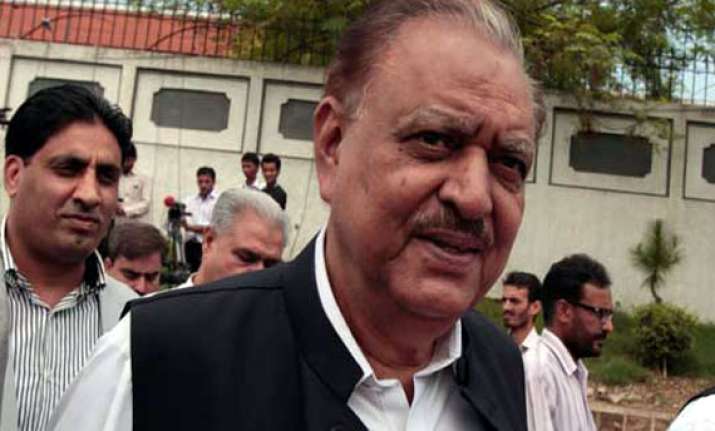 Agra, Aug 1: Fireworks lit up the evening sky over Mantola and kettle drums sounded as news reached here of the election of Mamnoon Hussain as the new President of Pakistan.
Sweets were distributed by residents of the locality to celebrate the elevation of one who was born in the Mantola area to the highest office in the neighbouring country.
People gathered to talk excitedly about the announcement which was expected, while many others offered prayers.
Hussain, a close aide of Pakistan Prime Minister Nawaz Sharif, was elected as the 12th President of Pakistan after trouncing his lone opponent in a one-sided contest.
Hussain was born in Agra in 1940 and spent his childhood here before his family migrated to Pakistan in 1948, leaving their family mansion and many relatives behind.
The ancestral home at Chhoti Hathai in the Nai ki Mandi locality, adjoining Mantola, still stands, part of it in its original form while another portion has been rebuilt in the modern style.
Hussain's cousin (the son of his father's younger brother) Usman Qureishi lives in the Shahid Nagar locality.
Qureshi's sister, too, is a resident of the locality along with her sons Seemab Alam and Khaleequzzaman.
Hailing Hussain's election, Qureishi said, "I am very happy to hear to hear the news. Our prayers have been answered.
"I have high hopes he would do his best to improve ties between India and Pakistan as he hails from Agra, the city of Akbar's Sulh-i-kul," he said.
Nephew Khaleequzzaman, too, expressed similar hopes that his uncle's elevation would usher in an era of peace and friendship between the two countries.
Seemab said he had talked to Hussain's elder brother, Akhtar Hussain, and his wife in Pakistan to congratulate them.
Akhtar was sure that whenever Hussain visited India, Agra would be a part of his itinerary, Seemab said.
The two nephews recalled how Hussain relished the Agra biryani, which he never forgot to mention every time they spoke over the phone. Hussain had visited Agra some 25 years to meet his relatives.
"Uncle also remembers Agra's sweetmeat 'Petha' and the snack 'Dalmoth'," Seemab said.
Meanwhile, the All-India Jamiat-ul Qureishi distributed sweets at the Mantola trisection in celebration of the news.
Jamiluddin Qureshi, vice-president of the organisation, said, "We hope deep and true ties between India and Pakistan will now be established, leading the way to lasting friendship between the two countries."