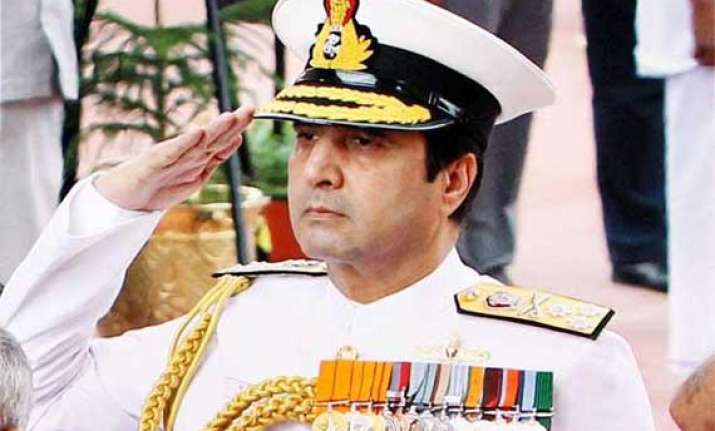 Kochi: Chief of Naval Staff Admiral R K Dhowan today praised his sailors and officers who work in 'very tough conditions'.
"They work under very very tough conditions being in high seas when seas are rough. They carry out all tasks with best of their ability with smiles on their faces, chest broad and head held high. We are very proud of them", he said in a brief media interaction after an Investiture ceremony here.
"Our officers and sailors are the finest in the world", he said, adding they have undergone very stringent training and are thorough professionals.
On Prime Minister Narendra Modi's proposed June 14 visit to aircraft carrier INS Vikramaditya off Goa coast, he said the Navy proposes to showcase its various operations and activities of its ships and aircraft out at sea during the visit.
Asked about the new government's proposal to increase FDI in Defence, he said "As armed forces, we will follow whatever the government decides".
On the arrest of two naval personnel by CBI in connection with a forgery case for allegedly using fabricated bills and documents and permanent duty claims, causing a loss of over Rs 19 lakh to the exchequer,he said whenever instances like these happen, a thorough investigation is conducted and thereafter based on its outcome, next reaction takes place.
The Scorpene submarine project will be ready by September 2016, he said.
Earlier,the Admiral presented Gallantry awards to three officers—Lt Commander Shailesh Tyagi, who battled militants in Cherhar village on Dec 11, 2012 and despite being seriously injured, was instrumental in the death of Yahaya Khan, of the Lashkar-e-Toiba, and Commander K M Arun Kumar and Krishna Kumar.
Awards were also presented to 25 other naval personnel. Citations were given to eight units, including INS Sindhuvijay, the submarine deployed for operational patrol.
Addressing the personnel,the Admiral said the unit citation citation was important as it shows that ships, submarines and establishments are working together and so our navy is strong.  Navy's responsibility is to protect the Indian waters and vast shores. The world is looking at India. There are several challenges and Navy, which is a multi dimensional force, has to be ever vigilant and prepared.