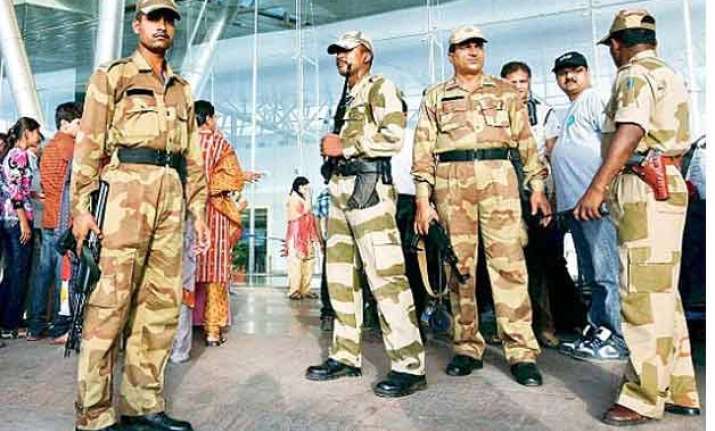 New Delhi: With high alert being sounded across the country in view of forthcoming Republic Day celebrations, security agencies have stepped up vigil at sensitive airports in the country entailing passengers to go through a second round of frisking and detailed scanning of their footwear and handbags.
At large and important airports like Delhi, Mumbai, Bangalore, Hyderabad, Kolkata, Chennai and Ahmedabad, passengers are being screened through multiple layers of CISF and airport security and a number of them are being asked to take out shoes and open hand baggages for a thorough checking.
Airlines and special teams of the CISF and airport security have been asked to conduct risk-based Secondary Ladder Point Check (SLPC) which entails frisking passengers on the air side just before entering the aircraft.
"The instructions have been issued keeping in mind the prevailing security situation and based on the assessment of Central security agencies. While these measures are not new and there is nothing to panic, they are being deployed to add to the extra layer of security and ensure that nothing misses the eyes of the security personnel," a senior official involved in airport security said.
Armed Quick Reaction Teams (QRTs) of Central Industrial Security Force commandos and local police have been positioned at vantage locations around vital airports and leaves of jawans and officers are being regulated strictly so that maximum numbers are on ground at least till January 26 and in some cases even beyond that, they said.
Special anti-sabotage teams and bomb detection and disposal teams and sniffer dogs have been kept in readiness at these airports.
The national capital will remain on high alert, sounded after the Pathankot attack, as the Centre has asked the Delhi Police to be prepared to foil any attempt by terrorists to carry out strikes in the city.
Similar directives, sources said, have been issued by various other states too.
"There is a general alert to all sensitive and vital installations in view of the Pathankot attack and keeping in mind the new year and Republic day festivities. The security paraphernalia at places where there is large public interface is definitely more proactive than earlier keeping in mind there are no added hassles in their movement," they said.