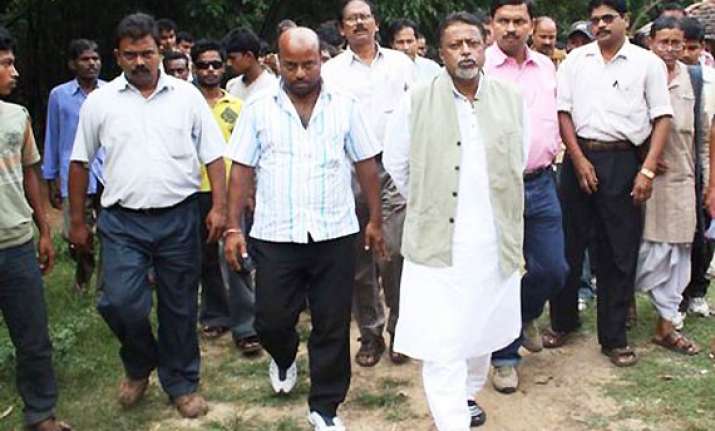 Diamond Harbour (WB) Dec 2: Action was today taken against the 15 policemen who opened fire at Nainan Mallikpara in South 24 Parganas district which left two women dead.

Superintendent of Police L M Meena said 15 policemen including Officer-in-Charge of Mograhat police station Ashish Das have been attached to the district police headquarters.

Trinamool Congress leader and Union minister Mukul Roy, however said that the policemen had been 'suspended'.

"Announcement for compensation will be made from Writers Building," Roy said.

Stating that Trinamool Congress government has been in power for only six months, Roy said the villagers clashed with power department personnel and police over illegal hooking as they had not been provided electrical connection even after applying for power connection in 2007.

Roy alongwith a party delegation visited the Diamond Harbour hospital where several injured villagers and policemen were admitted.

The Trinamool Congress MLA from Mograhat Namita Saha was manhandled by people angry at yesterday's police firing, at Kuldiha, police sources said.

WBPCC president Pradip Bhattacharya demanded suspension of the policemen.

The CPI(M) demanded a judicial inquiry into the police firing, jobs to the next of the kin of the victims and compensation and said it was a serious matter that chief minister was not initially informed about the incident.

CPI(M) leader Surjyakanta Mishra, who is the Leader of the Opposition alleged that the chief minister was unclear in her statement yesterday.

"She has blamed almost everyone, starting from the police and the power department employees who went to the village to remove unauthorised power lines," Mishra said.

"It is also a serious statement of the chief minister that she was not initially informed of the police firing when she was in the Writers' Buildings (secretariat) yesterday," he said.

The CPI(M) has given a call for a 12-hour Mograhat bandh tomorrow and SUCI, an ally of the Trinamool Congress for one on Sunday.

A CPI(M) delegation led by former ministers Rezzak Mollah, Kanti Ganguly and former MP Sujan Chakraborty visited the area and met the family members of the two persons killed.

Meanwhile, the situation at Nainan Mallikpara area was tense but under control, police sources said.

Condition of one person identified as Khokan Modal who was injured in the firing was critical and he has been admitted to Chittaranjan Hospital in Kolkata, sources said.