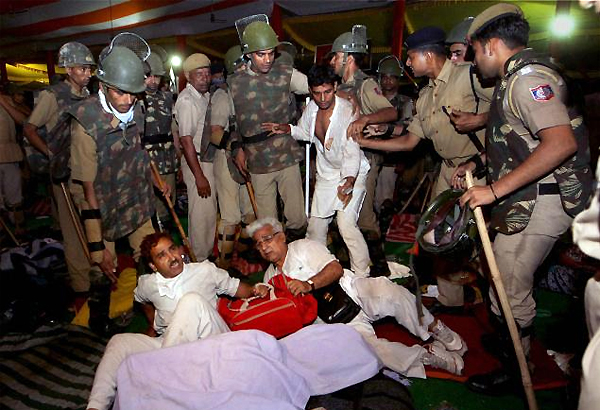 New Delhi, Mar 14: Action will be taken against erring police personnel involved in midnight crackdown on yoga guru Ramdev and his supporters at the Ramlila ground last June after identifying them, Government told the Rajya Sabha today.

Those police personnel who committed excesses at Ramlila Maidan on the night of June 4-5, 2011 "will be identified and action will be taken," Home Minister P Chidambaram said during Question Hour.

He said the government was obliged to honour the Supreme Court judgement on the action taken by police against Ramdev and his followers on the night of June 5, 2011.

Earlier, Prakash Javedkar (BJP) pointed out that 5,000 police personnel, in presence of Police Commissioner, cane charged 10,000 protestors who were sleeping. There was no reason for provocation and yet the protestors were beaten up, he said.

The Supreme Court in its judgement on February 23 had noted that while some of the police personnel were very cooperative with the members of the assembly and helped them to vacate the ground, some others were violent and inflicted cane injuries.

Delhi Police has constituted a fact-finding committee to conduct the preliminary enquiry and identify the erring officers and recommended the nature of departmental action to be taken against each officer in compliance with the order of the Court, the minister informed.

Besides, as per the direction of the Supreme Court, a fresh FIR has been registered on March 9 at Kamla Market Police Station, the Home Minister.

To another related question, Chidambaram said government was studying the Supreme Court's judgement.