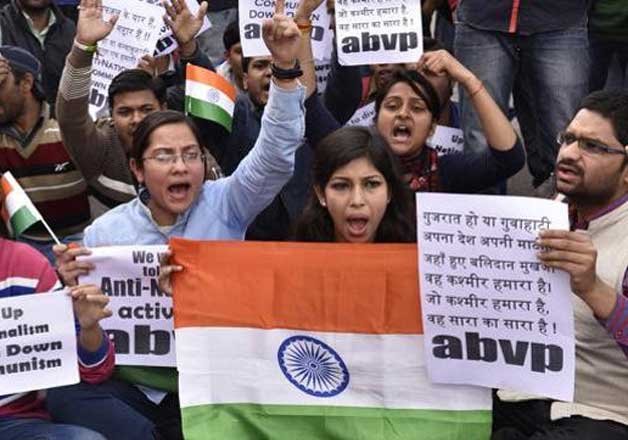 New Delhi: Hundreds of ABVP supporters today marched from Ramlila Maidan to Jantar Mantar to denounce "anti -nationals" and demand strong action against JNU students who allegedly raised "anti-India" slogans.
Waving the tricolour, participants in the march raised slogans like "one who wants to live in Hindustan must chant Vande mataram (agar Hindustan mai rehna hoga, Vande mataram kehna hoga)".
Targeting Jawaharlal Nehru University, "Na Marxwad, na Maowad, sabse upar rashtrawad" (No Marxism, no Maoism, above all is nationalism).
Addressing the protesters at Jantar Mantar, Binay Bidre, National General Secretary of ABVP, the students' wing of RSS, condemned the controversial event at JNU on February 9 where alleged anti-national slogans were raised at a protest against the hanging of Parliament attack convict Afzal Guru.
"We cannot tolerate anyone raising slogans that threaten the unity of the country. ABVP shall not tolerate such anti- national forces," he said.
The activists also held up banners with messages such as 'Our JNU, our pride - JNU for Nationalism'.
The rally comes on the heels of back-to-back demonstrations organised by the predominantly Left and Ambedkarite students' bodies against the arrest of JNUSU President Kanhaiya Kumar and the suicide by Dalit research scholar Rohith Vemula.