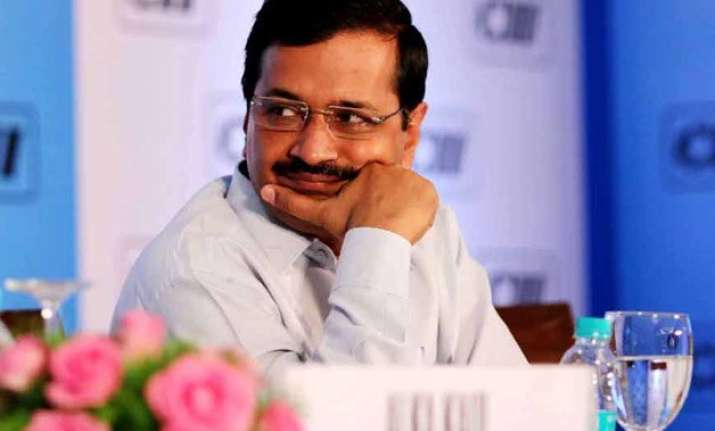 New Delhi: In the wake of brutal rape of two children, Delhi Government was contemplating approaching the Supreme Court "to fix accountability" of the Delhi Police even as Chief Minister Arvind Kejriwal mounted a shrill attack on the force for "failing" to ensure security of women.
Hitting out at police, Kejriwal today alleged that it had "completely failed" to provide safety to the citizens and said Prime Minister Narendra Modi should "either act himself" or give AAP government the authority over law and order in the capital.
"The Central government is saying they don't have money to spend on Delhi police which has 16,000 vacancies. Then why are they keeping the police under them? Give us the control of Delhi Police. We have the funds and we are ready to provide security to the citizens of Delhi," he told media.
Sources said government was taking legal opinion on filing a Special Leave Petition in Supreme Court to make police accountable, as ensuring security of women was a major poll promise of Aam Aadmi Party.
The thinking in the government is that police was not doing enough to ensure security for women despite repeated incidents of rape.
Two minors were brutally gangraped in the capital yesterday, incidents which come close on the heels of the rape of a four-year-old girl in northwest Delhi last week.
 
The Chief Minister today made a strong pitch for handing over Delhi police control to city government and sought a meeting with the Prime Minister and Lt Governor on the law and order situation in Delhi.
"PM sir, give control of Delhi police to Delhi govt for one year. If situation does not improve, take it back...Seeking time to meet LG n PM to discuss women safety in Delhi," he said in a series of tweets.
Taking a grim view of the cases, he said, "Repeated rape of minors is shameful and worrying. Delhi Police has completely failed to provide safety. What is the PM and his LG doing?"
Kejriwal said that Modi is "answerable" if he wants police to be under Centre's control and requested him to meet Jung, who he said, was more keen on "interfering in the
AAP government's work".
"The only task left with LG and Delhi Police is to interfere in our work. Rather they should focus on the safety and security of women in the capital," he added.
Kejriwal visited the hospitals where the victims were being treated and said that his government has the requisite funds to take over the control of police and provide security.
 
"Delhi Police Commissioner B S Bassi is always forthcoming in commenting on issues relating to AAP. But now he is keeping quite. The accountability of police has to be
fixed," said a senior government functionary.
He said people come to the elected representative for all their problems and they must have a say in policing.
Kejriwal also hit out at BJP's Delhi in-charge Shyam Jaju for his remarks that "be it any small subject in Delhi, Kejriwal is doing politics of blame-game"
"Shyam Jaju says rape is a small incident? Shameful," Kejriwal tweeted, while AAP said the remarks were a manifestation of BJP's "anti-people stand".