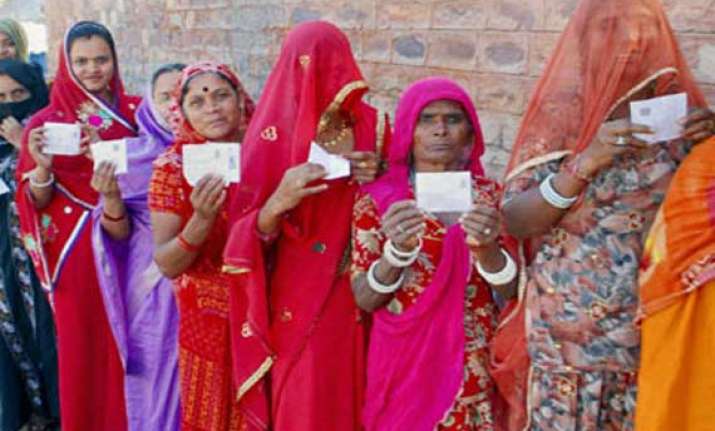 Jaipur: About 59.64 per cent of 81 lakh voters today exercised their franchise in 5 Lok Sabha constituencies where polling ended for the second and final phase in Rajasthan.
It was about 9.4 per cent more than the 2009 LS polls in five constituencies, A K Jain, Chief Election Officer, told a press conference here.
There was no poll related violence in five constituencies, Jain claimed.
Barring one incident of clash between security forces and villagers in which five persons including four photo journalists were injured and vehicles were damaged after forces opened 14 rounds of fire at Satha village in Dausa district, the polling was no where affected or obstructed, DGP-Law and Order Navdeep Singh, told a joint press conference here.
Polling was not either disturbed on Satha booth despite little clash outside due to women electors' identity issue in which mob of men folks tried to obstruct, he said, adding however an FIR was lodged by police with Mahua police station related to attack on scribes who went for coverage.  
Forty-five thousands security personnels were on duty in the most sensitive 5 LS seats in the state, he added.  Dausa LS seat recorded a tentative polling of 60.81 per cent, Alwar: 65.14 per cent, Karauli-Dholpur: 53.98, Bharatpur: 56.7, Tonk- Sawaimadhopur 60.72 pc, Jain said, adding the final tally of poll percentage would be clear by tomorrow morning.
Poll fortune of eighty one contestants, including two Union Ministers; Namonarayan Meena (MoS finance) from Dausa, Jitendra Singh (MoS-sports) from Alwar, and former cricketer Mohammed Azaharruddin from Tonk-Swaimadhopur was sealed in EVMs.