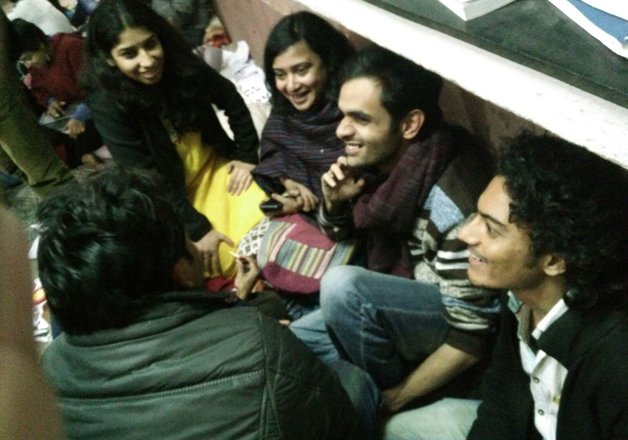 New Delhi: Five JNU students, including Umar Khalid, who have been charged with sedition, dramatically surfaced on university campus late on Sunday night, saying 'they did not do anything wrong but were framed using doctored video'.
The five students are: Umar Khalid, Anant Prakash Narayan, Ashutosh Kumar, Rama Naga and Anirban Bhattacharya. All 5 had disappeared from the Jawaharlal Nehru University (JNU) campus after the February 9 event that was held to mark the anniversaries of executions of Parliament attack convict Afzal Guru and Jammu Kashmir Liberation Front co-founder Maqbool Bhat.
All the students said that 'they escaped and hid fearing mob lynching and not Delhi Police'. While police rushed a team to the campus on receiving information about them, the students maintained that 'they will not surrender but police can come and arrest them'.
"We were laying low and did not come to public life because we feared mob lynching and not police," Rama Naga, general secretary of the Jawaharlal Nehru University Students' Union (JNUSU), said.
Earlier, Khalid, addressing students in front of the admin bloc of the JNU, said he was not a terrorist and the BJP-led NDA government 'needed an excuse to target the campus'.
"My name is Umar Khalid and I'm not a terrorist," Khalid said, condemning the media trial that branded him a terrorist. "The attack (on the university) is not because of the program which was organised on Feburary 9, but because the government needs an excuse to attack us."
"The media, all this while, presented a lot of things about me. The media trial, this propaganda... I know what my family is going through," he added.
He also refuted the media reports that he made 800 calls to 'Gulf or Kashmir' a few days before the program was organised.
JNU has been on the boil over the arrest of its students' union president Kanhaiya Kumar on sedition charges following the February 9 event.
According to Ashutosh, former president of JNU students union and a PhD scholar at varsity's School of International studies, "They have come back with a view of supporting the enquiry. The massive support we got from students and others from across the globe gave us the strength to return. I, Rama, Anirban and Anant were around but did not come in public due to atmosphere of mob lynching."
He, however, maintained that the four of them were not in touch with Umar Khalid and had spoken to him last on February 9, the day of the event.
Ashutosh said the students were in Delhi itself and that the decision to return on Sunday evening had been taken individually and not collectively. "We didn't do anything wrong but were being framed using doctored video. We will not go anywhere now and will be part of the movement against the branding of university as anti-national," he said.
The five students also participated in a march, shouting slogans and demanding release of Kanhiaya and addressed a gathering of students at varsity's administrative block where the protests have been going on ever since the controversy erupted.
Khalid denied that he had any terrorist links, while Anirban maintained that it was the look-out notice issued by police which made him decide to come back.
"I am disturbed at the way I have been attacked and I am also angry at the comments posted against my sister on social media," Khalid said.
A senior Delhi Police official said that a tem has been positioned outside the university campus and that nobody has surrendered.
"We had received some information about their reported presence on campus. A police team was rushed to the varsity to enquire out after we received information that they were spotted on the campus. The team has right now been positioned outside JNU," a senior police official said.
"So far nobody has surrendered. The officials at Vasant Kunj North police station have been asked to wait for them to present themselves before the police and surrender. If they don't come till morning, police team will be sent tomorrow to arrest them. No crackdown can be conducted at this hour," the official added.
When contacted the university officials, maintained that they had no information about their presence in the varsity's premises.
With Agency Inputs