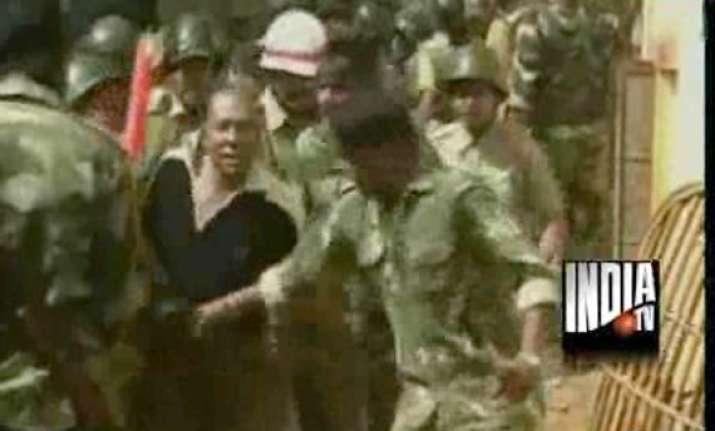 Midnapore (Wb), Mar2: Irate villagers torched a Counter Insurgency Force barrack in West Midnapore district today after 30 persons were injured in police lathicharge on a crowd  which had blocked the state highway demanding handing over of a CIF personnel accused of molesting a girl.

Sub-divisional police officer Dipak Sarkar told PTI that 14 policemen were injured in brickbatting by the agitating villagers.

Sarkar said that the villagers, who outnumbered the police, set afire the CIF barrack located within the Eastern Rifles (EFR) compound at Salua.

CIF SP Manoj Verma has rushed to the spot. The villagers earlier blocked Keshiary-Kharagpur state highway demanding that a CIF personnel, accused of recently molesting a girl, stated to be the daughter of a EFR personnel, be handed over to them.

As the police asked the agitators to disperse and clear the state highway, the villagers indulged in brickbatting, prompting the police to use batons.Sarkar said reinforcements were being rushed to Salua to defuse tension.

Twenty CIF members were injured when EFR and CIF jawans clashed on February 24 over alleged misbehaviour by a CIF personnel with a woman at a fair at the EFR headquarters at Salua.

Since then tension has been brewing in the area. A fresh incident of eve-teasing was reported yesterday allegedly by a CIF jawan, the police said.

The daughter of an EFR personnel was returning after tuition on Tuesday night when the CIF man allegedly taunted her.
EFR jawans in protest blocked roads yesterday obstructing movement of CIF officers' cars demanding punishment of the offender. Some of the officers were also gheraoed.

Tension gripped the area but late last evening a meeting between officers of the two forces decided that steps would be taken to prevent such incidents from recurring.

Salua houses the headquarters of all three battalions of EFR, raised in 1907, while anti-Maoist force CIF was set up last year on the lines of the Greyhounds in Andhra Pradesh.