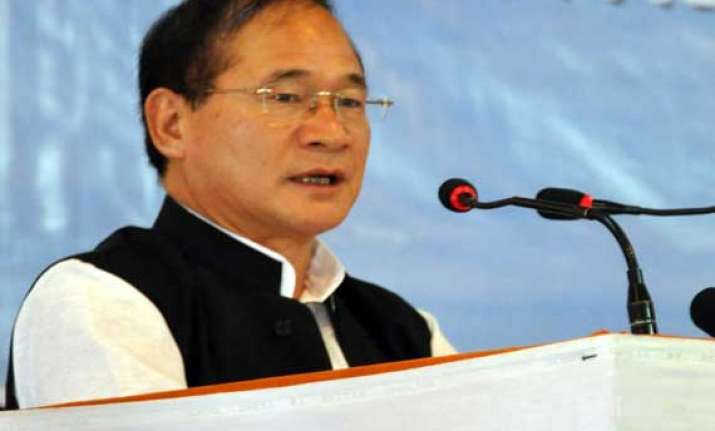 Itanagar : Amidst reports of dissident activities by senior ministers of the ruling Congress government in Arunachal Pradesh, Chief Minister Nabam Tuki today inducted three ministers in his 28-month-old Cabinet after dropping three old faces.
Among the newly inducted ministers, Gojen Gadi and Kumar Waii were new faces while Kalokho Pul had been the state's Finance Minister for at least three terms since the chief ministership of Gegong Apang in the 80's. 
The ministers who were sacked include, PWD, Planning and Finance Minister Chowna Mein, Health and Family Welfare Minister Atum Welly and Transport Minister Jarkar Gamlin.  The strength of the state Cabinet is 12, including the Chief Minister.
Later, talking to reporters the Chief Minister said that the performance of the ministers who were dropped was "not satisfactory".
When contacted, Chowna Mein said he was shocked at this "sudden decision" and denied his involvement in any dissident activity.
"If I had done any mistake, the party should initiate disciplinary action against me. The sudden decision to drop me is unfortunate," he added.
The portfolios of the new ministers would be announced today.
According to reports, a group of ministers led by Mein were presently camping in New Delhi to suggest a need for a change to the party high command.
Talking to reporters later, Tuki denied knowledge of dissidence and said reshuffling was done as a normal exercise depending on the performance of the ministers. 
"The new ministers were inducted on popular public demands and to strengthen the party at the grass root keeping in view the forthcoming Parliament and Assembly polls," Tuki said.  
He dismissed the demand for imposition of President's Rule in the state, by the Peoples' Party of Arunachal, as baseless. 
On a "Narendra Modi wave" sweeping across the country and his successful rally at Pasighat on February 22 last, the chief minister said, "The Modi wave is zero in Arunachal Pradesh and most of the people who attended his February 22 rally were from neighbouring Assam."