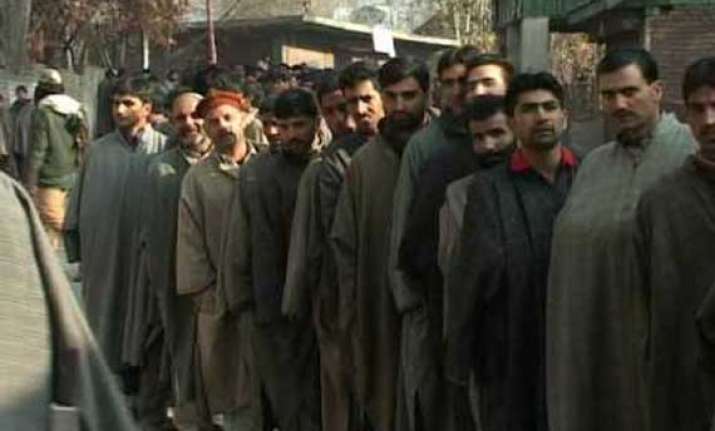 Jammu : As many as 3.5 lakh first-time voters would exercise their right to franchise in the Lok Sabha elections in Jammu and Kashmir, an election official said Friday.
Chief electoral officer Umang Narula gave this information to the poll panel's director general Akshay Raut during a video conference here.
Raut was also apprised about the activities being carried out under the systematic voters' education and electoral participation (SVEEP) and overall poll preparedness in the state.
A statement issued here said the election officers of all districts of the state participated in the video conference from their respective headquarters.
Narula said that these new voters were registered during the summary revision of the electoral roll in the state.
He said state and district SVEEP committees have been constituted and the SVEEP state plan has also been rolled out from March 1.
Narula said as many as 253 campus ambassadors have been appointed in different colleges and universities of the state.
"The dissemination of electoral literacy material through adult literacy workers is in progress, while radio jingles on voter turnout are being broadcast ten times a day from Radio Kashmir Jammu, Srinagar and other private radio stations.
"A special programme for registration of left out new eligible voters was also held on March 9.
"The CEO said awareness pamphlets and other printed material are also being distributed to educate the people about the importance of casting vote.
"Online registration and name search facility for the voters is also being facilitated through the CEO's website," the statement added.
The CEO further informed that so far, awareness observer has visited Jammu, Udhampur, Reasi and Samba districts as part of the voter awareness activities being taken up at all districts.
He said the issue regarding SMS reminder on poll day has been taken up with the BSNL and private telecom operators.
Raut advised the participants in the video conference to lay stress on creating mass awareness with special focus on women and young eligible voters. He said that maximum participation of women and newly registered voters would help record high voter turnout in the state.