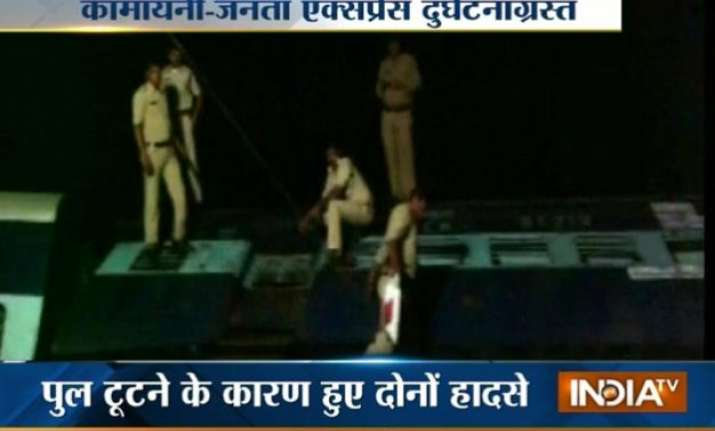 Harda ( MP) : Twenty two people are feared dead and more than fifty injured after two trains derailed within minutes at the same spot while crossing a bridge in Madhya Pradesh late on Tuesday.
Seven coaches of Kamayani Express, on way from Mumbai to Varanasi and three coaches and the engine of the Jabalpur-Mumbai Janata Express, which was travelling in the opposite direction derailed 30kms from Harda after the tracks, got submerged in the water.  
Contrary to initial reports Railways PRO ADG Anil Saxena told India TV that the trains did not fall into rivers from a bridge. Accident happened on the damaged culvert, the tracks got submerge in the water causing the accident. Several bogies and engines went off track and got submerged into water. 70 member NDRF team is involved in rescue operations. The unaffected coaches have been taken out and moved to Itarsi.
Meanwhile routes of more than 45 trains have been diverted and two trains have also left for rescue operantions.
Divisional Commercial Railway Manager (DCRM) Brajendra Kumar said that many passengers were rescued from the stranded trains. A passenger of Kamayni Express, Akhilesh Pratap Singh told PTI that he along with over 150 passengers, travelling in the general class coach, were stranded on a hilltop to save themselves
Read More: Train derails in Madhya Pradesh, casualties feared
A flash flood like situation or an overflowing dam might have been the cause of excessive water on the tracks, say railway officials.
Meanwhile, the accident relief train has reached the spot and several passengers have been brought to a nearby station.
According to an eyewitness, the train derailed on the submerged tracks, sending a panic wave among the passengers in the dark, rainy night.
Meanwhile, Prime Minister Narendra Modi has expressed his condolences to the victims of the mishap
"The two train accidents in Madhya Pradesh are deeply distressing. Deeply pained over the loss of lives. Condolences to families of deceased." he said in a tweet.
"My prayers with the injured. Authorities are doing everything possible on the ground. The situation is being monitored very closel,." he added