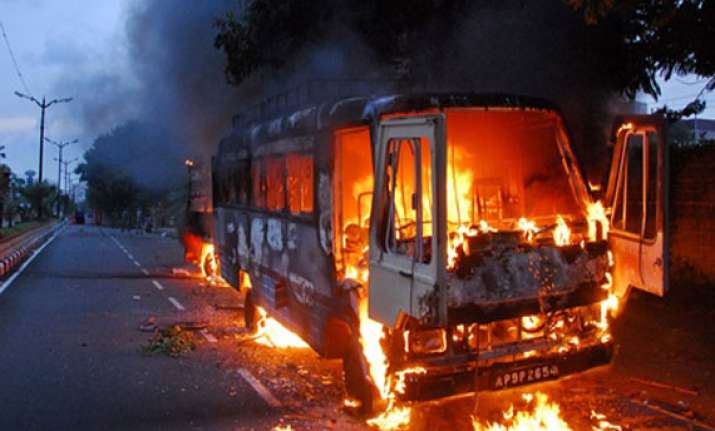 Hyderabad, Dec 27: 2012 was more or less free from any major political turmoil unlike previous years in Andhra Pradesh which saw the vexatious Telangana statehood issue somewhat losing its steam.
The year also saw 21-month-old YSR Congress establishing itself as a formidable political force in the state, challenging both ruling Congress and principal Opposition Telugu Desam Party.
Telangana protagonists achieved little success as the government seemed to be in no mood to take a call on the statehood demand though it convened an all-party meeting towards the end of the year.
The year, however, was an annus horribilis for ruling Congress as its fortunes continued to dip due to a variety of reasons. Chief Minister N Kiran Kumar Reddy completed yet another year in office but somewhat failed to ensure cohesion in his Cabinet with his colleagues pulling it in different directions.
A Cabinet minister was arrested by CBI in a corruption scandal and lost his job. Another minister is set to meet the same fate as he has been named in the CBI charge sheet in the same scandal.
Incidentally, YSRC president and Kadapa MP Y S Jaganmohan Reddy - who emerged as the biggest threat to Congress - has also been arrested in the same case and is in jail.
While the Telangana issue caused a severe dent to Congress, Jagan is gradually eating into its base in Andhra- Rayalaseema regions by weaning away legislators and important leaders into his YSRC fold. Jagan is also dealing a blow to the TDP by attracting its MLAs into his fledgling party.
The TDP suffered erosion in its ranks in the Telangana region with MLAs making a beeline to Telangana Rashtra Samiti.
The state saw by-elections to 25 assembly constituencies and a Lok Sabha seat in all in which TDP drew a blank and Congress salvaged some pride by winning just two seats. YSRC ended up as the biggest gainer in these polls as it bagged 16 assembly seats besides the Lok Sabha seat.
The by-polls, in a way, forced both Congress and TDP to redraw their strategies so as to stay afloat in the muddled political waters.
Chief Minister Reddy hit the roads with his (official) 'Indiramma Baata' programme while Leader of Opposition N Chandrababu Naidu launched a walkathon 'Vastunna...Meekosam' to "re-connect" with the people at the grass-roots level.
Jagan's younger sister Sharmila too undertook a foot march, as continuation of her jailed brother's 'Odarpu yatra' but had to abruptly abandon it because of a knee surgery.
YSRC is yet to make its mark in Telangana even as it has mustered good strength in Andhra-Rayalaseema regions. The party's fortunes in Telangana hinge on the stand it would take on the statehood issue.
But in-fighting among leaders is one factor that is haunting YSRC right now. With supremo Jagan in jail and no leader of equal stature in command, there is none to end the internal squabbles in almost all the constituencies.
TRS benefited politically, encashing the so-called "Telangana sentiment" in the by-elections but it also lost some credibility with its leader K Chandrasekhar Rao's repeated claims on securing statehood for the region proving hollow.
TRS' move to merge with Congress, in bargain for Telangana, only earned it disgrace.
BJP, on the other hand, was seemingly bettering its position in Telangana, holding out hope that it alone could secure statehood for the region, given its previous track record of creating smaller states like Jharkhand, Chhattisgarh and Uttarkhand.
By winning two by-elections, the BJP proved this point.