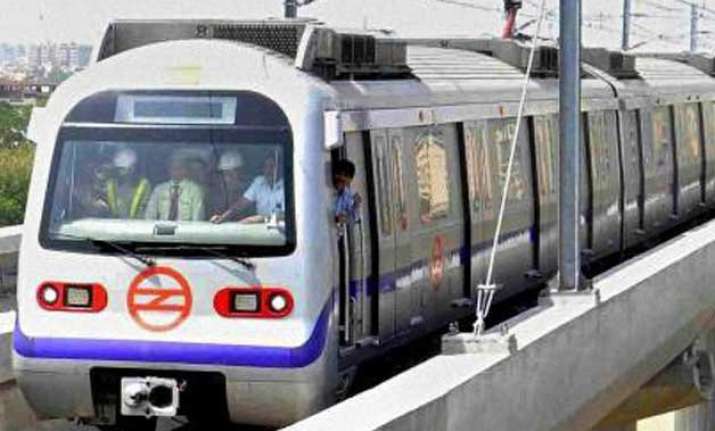 New Delhi: As many as 17 people had died in 80 cases of suicide attempts at various Delhi metro network stations in 2015, according to an official data.  Also, last year around 145 instances were reported in which people tried to enter the station without being checked or attempted to carry baggage without getting it checked but stopped by the CISF personnel.
In 137 cases of fine, under relevant laws, was imposed on those who attempted unauthorised entry and tried enter station with getting their baggage checked, said the data.  
Apart from these, the Central Industrial Security Force (CISF) data shows 156 rounds of ammunition and 18 arms were also seized by the force in 37 instances at various metro stations last year, when these banned items found at the baggage scrutiny level or during personal frisking at the entry gates of the stations.
Keeping a steady trend over the last few years, year 2015 again saw a maximum of women pickpockets being apprehended by CISF security personnel as part of 64 operations undertaken to check these crimes in the metro.
Of a total 256 people being apprehended on the charges of pickpocketing, a whopping 92 per cent, 235 were women, said the data which was collected by the CISF between January 2015 and December 2015.
A total of 3,715 male passengers were apprehended and fined for illegally travelling in coaches reserved for women while 306 people were apprehended for walking on the metro track, which is illegal.
The CISF has the responsibility to secure the rapid rail metro network used by lakhs of people every day to travel to their destinations in the national capital and neighbouring areas.
A total of 80 cases of suicide attempts were recorded in which 17 people lost their lives.
In the rest of the cases, while many suffered bad injuries after the attempt by either jumping on the track or on the road from elevated stations area, others were stopped in time by CISF and other authorities, said the data, accessed by PTI.  
"All the 145 attempts of unauthorised entry of bags or passengers were checked in time and people were apprehended.  The force keeps deploying sleuths in plain clothes to check such instances," a senior official said.  
Of the 145 such cases, 99 cases were of unchecked baggage being handed over from the unpaid area to the paid side of the metro, or to say through exit gates, while in 46 cases security personnel apprehended commuters who were going in from the wrong side without undertaking the mandatory security check at the entry.
The CISF has undertaken a number of steps to effectively check the instances of attempts to commit suicide, apart from undertaking a joint drive with Delhi metro authorities to raise the height of side gates, separating the unpaid and paid areas, of these stations so that no passenger can take in any unchecked material or bags.
Security in the metro has been keeping in mind the increasing load of passengers (about 26 lakh every day) and in view of a last year's incident when a man sneaked in a pistol and fired it upon himself at busy Rajiv Chowk metro station.  
The CISF, during the same period, also handed over cash worth around Rs 18.63 lakh, cheques or drafts of over 1.93 lakh, foreign currencies having a total value of Rs 15,029, 109 laptops, 30 gold ornaments, over 110 cameras and watches, 356 mobile phones and two dozen tablets and ipods—forgotten by the commuters inside a coach—to Metro authorities.