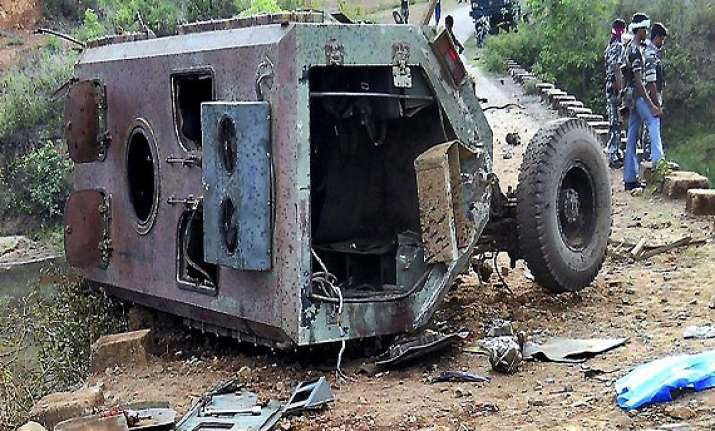 Garhwa (Jharkhand), Jan 21: Thirteen policemen, including the officer-in-charge of Bhandaria police station, were today killed and two others injured when Maoists triggered a landmine blast near the jungles of Bariganwa in this district.

"The Maoists triggered the blast, killing 12 policemen and the officer-in-charge of Bhandaria police station R B Choudhary around 11 am," SP Michael S Raj said. 

"Only after post mortem, we tell whether they were hit by bullets (too)," he said when asked whether the Maoists fired upon the policemen after blowing up their anti-landmine vehicle, about 75 km from Garhwa town. 

According to eyewitnesses, the vehicle was tossed up high into the air under the impact of the blast before falling down.

When some policemen were trying to come out of the twisted vehicle, the rebels opened fire on them from point blank range, sources said.

According to Bhandaria police station sources, the Maoists looted weapons from the dead policemen and set fire to the vehicle.

Bhandaria BDO Basudev Prasad had a narrow escape as the blast took place minutes after his vehicle passed the spot, Garwha, Deputy Commissioner R P Sinha said. 

"The blast took place after the BDO's vehicle crossed the spot. After getting information that a shutdown was called by locals today, the BDO and the policemen were going there to convince them to call off the shutdown when the explosion took place," Sinha said.

According to police sources, the village head of Bargarh, about 22 km from the incident spot, called the shutdown following an alleged dispute over the place of construction of a health centre.

The sources also said two members of the zila parishad and their security guard had gone missing after they were passing the route some time after the incident.

Additional reinforcements were immediately rushed to the spot, about 75 km from Garhwa town.

In 2001, the Maoists had ambushed six policemen near the same spot.