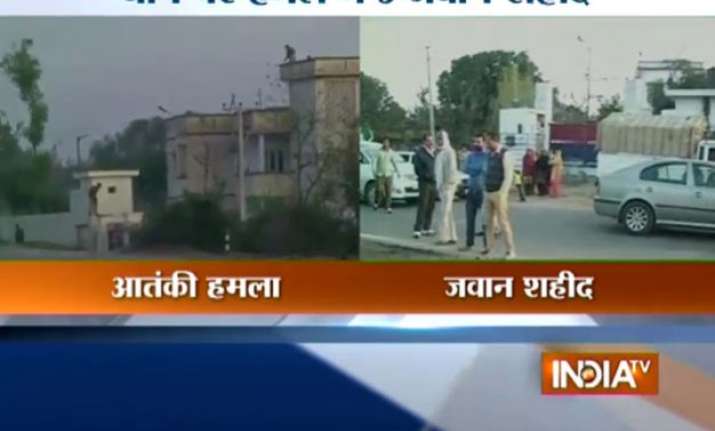 Kathua: In the first major attack in Jammu and Kashmir after Mufti Mohammed Sayeed took over as Chief Minister of the state, militants stormed a police station in Kathua district killing four men including three security personnel.
Here are 10 major facts about the Kathua terrorist attack:
1. Two suspected LeT militants wearing Army uniforms intercepted a jeep going from Jammu to Pathankot on the pretext of checking the vehicle. The ultras then hijacked the jeep which had three passengers on board and fled towards the Rajbagh Police Station. They are also believed to have killed the driver of the jeep.
2. The two militants stormed Rajbagh police station around 6 am today. The terrorists first killed the police sentry at the gate. They hurled grenades at the police station and opened indiscriminate fire.
3. Both the terrorists were killed after a five-hour long battle in which 4 persons were killed and 9 injured.
4. Those killed included two paramilitary personnel, one civilian and one policeman.  7 CRPF personnel, a policeman and a civilian were among the 9 injured.
5. Since the police station is barely 15 km from the international border there is a possibility of the militants being a fresh group of infiltrators who may have crossed the border last night.
6. This is the first major attack in the northern state after PDP-BJP government was formed under the leadership of Mufti Mohammed Sayeed. The incident may force PDP to put the process of reconciliation at the backburner and take a tough stand against the militants. Union minister Jitendra Singh has already said that the incident once again underlines the fact that AFSPA shouldn't be withdrawn for political reasons.
7. There have been similar terror attacks on police stations and Army camps in Kathua and Samba districts in 2013 and 2014.
8. We condemn this attack strongly and Want to tell those behind this attack that govt will make every effort to stop such attacks, said Naeem Akhtar, a close confidant of J&K CM.
9. It's clear from this that AFSPA shouldn't be withdrawn for political reasons: Jitendra Singh, MoS, PMO
10. We are clearing the area, verifying the facts and will examine the documents we have recovered from militants: Danesh Rana, IG, J&K Police.