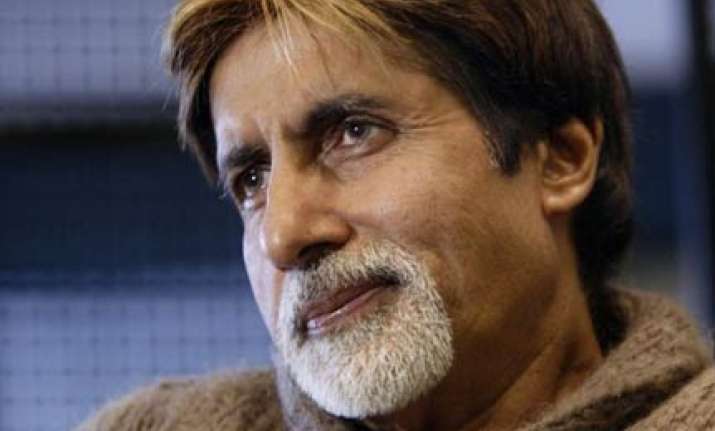 Miffed over resentment in the Congress about his presence in a government function, Amitabh Bachchan tonight hit out at his detractors, saying he was invited and that the whole controversy was manufactured. 
The megastar also said there were half-page advertisements in the media that he will be taking part in the function, an apparent dig at Maharashtra Chief Minister Ashok Chavan who said he would not have attended the function if he had known that Bachchan would be present. 
"I was invited...I had a formal invitation in the form of a letter from the PWD minister himself on his letter head," he said. The PWD ministry is headed by Congress coalition partner NCP. 
"I went there. It was a wonderful ceremony...What happens afterwards is their problem, not my problem," he said after Congressmen in Mumbai expressed their unhappiness over the presence of Bachchan, perceived to be close to Narendra Modi, at the inauguration of the second phase of the Bandra-Worli sea link on Wednesday. 
Chavan said Bachchan is a brand ambassador of Gujarat. "We will like to promote our own state. I would not have attended the function had I known he would be present". 
An unusually aggressive Bachchan told CNN-IBN "whether or not somebody wishes to make an issue or not out of my association with anyone, it is their prerogative..I am going to continue doing what I feel my conscience allows me to do". The actor said he had left politics over 25 years back and had never associated himself with anything political. 
Defending his decision to promote tourism in Gujarat, Bachchan said just because Modi is the chief minister and some people don't like him "I should not be associating with him is ridiculous". 
Writing on his blog, Bachchan said, "a fresh controversy has been rapidly manufactured on my involvement...the media has been hounding me since the event at the sealink".
NCP minister Jaidutt Kshirsagar, who is also chairman of the Maharashtra State Road Development Corporation, the implementing agency of the sealink, justified the decision to invite Bachchan, saying he is an "icon". Taking advantage of the Congress discomfiture, BJP said Bachchan has become a victim of the "feud" in the Congress and "fear" of the Gandhi family in the party. 
"The Bandra-Worli sea-link is a national property and certainly not a property of the Congress party. Every Indian has a right to be there. Undoubtedly, Amitabh Bachchan is the nation's pride and a distinguished Mumbaikar who has full credentials to be the chief guest there," BJP spokesperson Rajiv Pratap Rudy said in Delhi. The Congress justified the resentment of party workers in  the state on the ground that Bachchan has identified himself with Modi.
"The party is aware of whatever has happened there. Chief Minister has already given a clarification. Party workers are angry because Amitabh Bachchan has identified himself with Narendra Modi," AICC general secretary Janardan Dwivedi told reporters. 
Bachchan said those who take umbrage over his association with Gujarat do not have the courage to stop "a Ratan Tata or an Ambani" from investing in the state and running successful ventures there. 
"Would you have the guts to tell them to not associate with the state, to pull out all their investment and manpower? I guess not. You would happily bring politics into the matter just to dissuade. But what good does that do to a person who is non-political. Reason and common sense overrides all else in moments like this. Such a shame really," he said. PTI