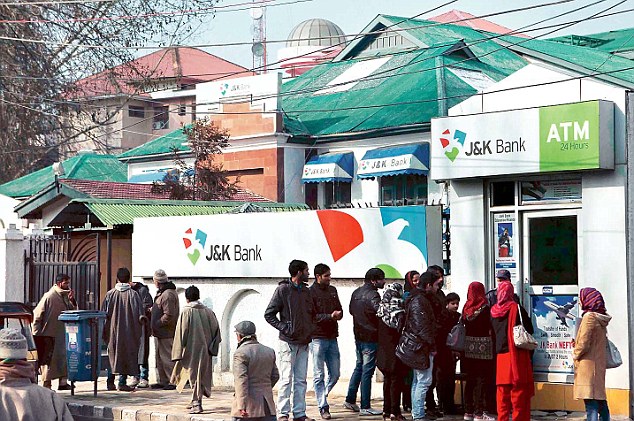 The struggle of common citizens in the unrest-hit Kashmir Valley appears to have gotten tougher since the demonetisation of Rs 500 and Rs 1,000 currency notes announced by the government on November 8. 
According to a report in The Indian Express, people are facing extreme difficulties as they are neither able to make cash withdrawals following long queues at banks and ATMs nor are they able to make card payments on shops as internet services in the Valley have been suspended since July 8, when protests began after the killing of Hizbul commander Burhan Wani in July this year. 
Though the government later restored landline broadband internet connections, there are less than 6,000 broadband subscribers in the Valley. 
The Point of Sale (POS) machines, which access mobile internet through SIM cards, are defunct. 
According to the report, in Srinagar's business hub of Lal Chowk and Residency Road, only one departmental store was accepting debit and credit cards and only one in 100 petrol pumps in the Valley had access to broadband internet. 
"While most people have debit cards, it is useless for people like me. I need cash for basic needs — milk, vegetables, meat. I can't even buy medicines now," Nazir Ahmad, a local resident of Tangmarg, was quoted by The Indian Express as saying. 
Meanwhile, the state government said that the people's concerns were genuine. 
"You have flagged an important issue. It is a genuine concern. I will apprise Chief Minister Mehbooba Mufti about it," government spokesperson and Education Minister Nayeem Akhtar said. 
The condition is more difficult for the tribal community of Gujjar and Bakerwal as they live in higher reaches, which are cut off from mainland for almost six months during winter. 
Amid continuing chaos and growing public anger across the country over limited cash availability, Prime Minister Narendra Modi held a meeting with senior ministers past midnight today to review demonetisation and its impact.
The government extended the time of accepting debunked Rs 500, Rs 1,000 notes at key public utilities from November 14 to November 24. 
On Sunday, the government also increased the daily limit of withdrawal from ATMs from Rs. 2000 to Rs. 2500 and exchange limit at banks from Rs. 4,000 to Rs. 4,500.
Additionally, the weekly limit of Rs 20,000 for withdrawal from bank counters has been increased to Rs 24,000. The maximum limit of Rs 10,000 per day on such withdrawals has also been removed.