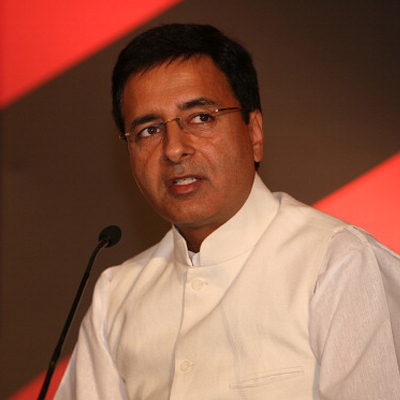 The Congress party today asked if prime minister Narendra Modi will confront Chinese president Xi Jinping over Doklam issue during their informal summit.
Launching a scathing attack on PM Modi, party's communications Incharge Randeep Singh Surjewala, in a series of tweets, accused the prime minister of being incapable of sending a strong message to China.  
"As Modi ji 'hugs' his friend, President Xi Jinping today in Wuhan, China, will he remember his innate duty to protect India's strategic interests and question China on occupation of Dokalam impacting India's national security?" Surjewala tweeted. 
"India is facing increasingly aggressive China to intrude into the 'Chicken's Neck' -Siliguri Corridor by building a new road through South of Doklam but why is Modi Govt clueless and incapable to send a strong message to China?" he asked. 
Referring to recent visits of Foreign Minister Sushma Swaraj and Defence Minister Nirmala Sitharaman to China for bilateral meetings with their counterparts, Surjewala wondered whether PM Modi will accept that they had "abdicated their duty" by not raising the Doklam issue.
"Does the Prime Minister accept the failure of his Cabinet Ministers (Defence and EAM) to confront China on creation of 'full-fledged Chinese Military Complex' in Doklam right up to 10m from Indian Army post, during their visit on April 20-24 as an abdication of their duty to the Nation?" Surjewala asked. 
Referring to the latest satellite imagery from Google Maps of April 25, 2018 that reportedly show creation of additional structures by China metres away from Indian Army posts, Surjewala asked whether the prime minister and the defence minister have taken note of it.
"Will PM Modi take up the issue in the Summit with Chinese President today in Wuhan, China ? Modi ji may not be able to show 'red eyes' as he loftily promised, but will he show the courage of conviction to do plain-speaking on Doklam and defend India's interests?" he tweeted. 
Prime Minister Narendra Modi and Chinese president Xi Jinping today opened their two-day informal talks in the central Chinese city of Wuhan.
The two leaders will hold another meeting later in the day with delegations from both sides being present. This will be followed by a dinner hosted by the Chinese President.
As Modiji 'hugs' his friend, President, Xi Jinping today in Wuhan, China, will he remember his innate duty to protect India's strategic interests & question China on occupation of #Dokalam impacting India's National Security?
1/n

— Randeep Singh Surjewala (@rssurjewala) April 27, 2018
2/n
Does the PM accept the failure of his Cabinet Min's (Defense & EAM) to confront China on creation of 'full-fledged Chinese Military Complex' in #Doklam right upto 10m from Indian Army post, during their visit on 20th-24th April, as an abdication of their duty to the Nation?

— Randeep Singh Surjewala (@rssurjewala) April 27, 2018
3/n
India is facing increasingly aggressive China to intrude into the 'Chicken Neck' -Siliguri Corridor by building a new road through South of #Doklam (Gateway to the North East), but why is Modi Govt clueless and incapable to send a strong message to China?

— Randeep Singh Surjewala (@rssurjewala) April 27, 2018
4/n
Doesn't the latest 'Satellite Imagery' from Google Maps of 25th April, 2018 show creation of additional structures by China meters away from Indian Army posts? Has PM & Defense Ministry taken note of it? pic.twitter.com/jKzM7AsXwt

— Randeep Singh Surjewala (@rssurjewala) April 27, 2018
5/5
Will PM Modi take up the issue in the 'Summit' with Chinese President today in Wuhan, China?

Modiji may not be able to show 'red eyes' as he loftily promised, but will he show the courage of conviction to do plain-speaking on #Doklam & defend India's interests?

— Randeep Singh Surjewala (@rssurjewala) April 27, 2018