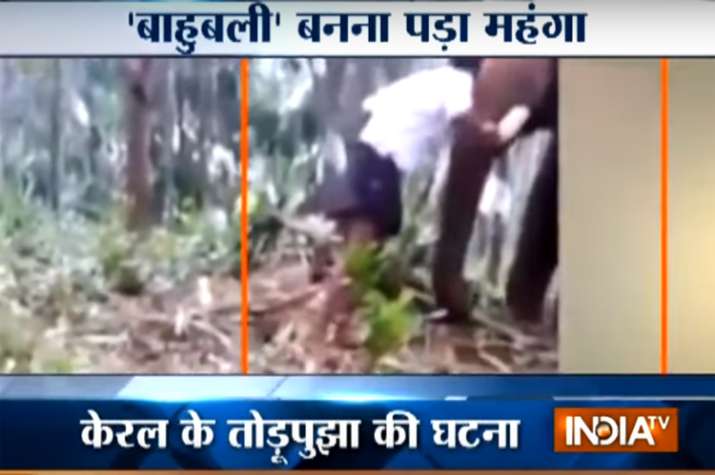 A Kerala man's attempt to imitate a popular scene from 'Baahubali', where Prabhas tames an elephant, went horribly wrong as the jumbo animal did not like the intimacy with which the man was hugging and kissing it. 
The man, identified as Jinu John, was said to be drunk as he fed a few bananas to the elephant and then tried to kiss it. 
Dressed in a white shirt and lungi, John saw the lone elephant while passing by the area with his friends on a scooter around 3 pm on Sunday, The News Minute reported. 
In a video, which has now gone viral, the man is seen approaching the elephant standing in the woods. The man has a plastic bag in his hand and as he steps closer to the elephant, he takes out some bananas and proceeds to feed the animal.
As the elephant finishes all the fruits in his hand, the animal puts forth its trunk, in a gesture asking for more bananas. The man takes out more fruits from the bag and feeds them to the animal, until there is none left. 
In the background, his friends plead with him not to get closer to the elephant. John, however, ignores their request and after feeding the elephant he tries to kiss it as he holds both its tusks.
"Don't do it, you are drunk, don't do it. The elephant will get mad," one of the men says.
His first attempt is successful which emboldens him and he tries to do that again. The elephant does not take the second attempt very kindly and flings him in the air with one swift movement.
In the next few seconds of the video, the man is seen lying in the ground unconscious. 
The incident reportedly happened in Karimannoor in Thodupuzha in Idukki district. Jinu was admitted to the hospital for treatment following the incident.
Watch the video here: