Follow us on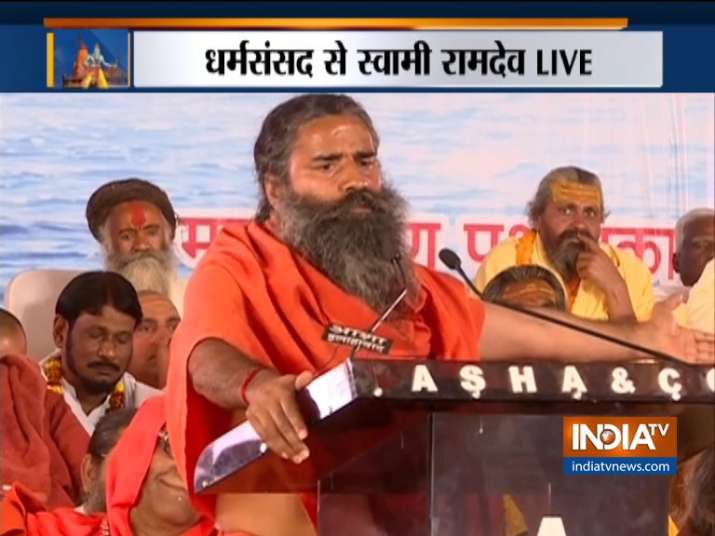 Yoga guru Baba Ramdev on Thursday said that attempts are being made to divide the Hindu saints.
"Attempts are being made to divide the Hindu saints in India. But I want to remind all that we are one," said  Ramdev  during  Vishwa Hindu  Parishad's (VHP) Dharma Sansad.
"Saints unity is necessary for the unit of the nation," he added.
The VHP has organised a grand two-day long Dharma Sansad in Prayagraj, Uttar Pradesh, starting from Thursday.
Mentioning about the population problem in the country, Yoga guru said that country must make a law to control population.
Touching Ram temple topic he said its construction is must.
"Ram temple must be constructed," he said.
On Thursday, Uttar Pradesh Chief Minister Yogi Adityanath visited Maha Kumbh  and met RSS chief Mohan Bhagwat in the backdrop of the Dharma Sansad.
Adityanath also met major saints including the Shankaracharya of Puri Swami Nishchalanand.
ALSO READ: Ram mandir construction work will start from Feb 21, ready to take bullets if needed: Swami Swaroopanand
On Wednesday, a conglomerate of saints said, in Ayodhya, the construction of Ram Temple will start on February 21.
Speaking to ANI, Swami Swaroopanand Saraswati said the 'Dharam Sansad', after a three-day meeting in Prayagraj, decided that the foundation stone of the temple will be laid on February 21. He also said the saints and those mobilized for the effort would not be deterred by arrests or any other kind of obstacles.
Interestingly, the decision came a day after the government approached the Supreme Court for permission to give back the excess land surrounding the disputed portion in Ayodhya to Ram Janambhoomi Nyas.
In a petition, the Centre, sought direction for releasing to the Nyas 67 acres, which it had acquired about two-and-a-half decades back. The dispute is over 0.313 acres of land.
WATCH VIDEOS: 
UP: VHP to hold 2-day Dharma Sansad at Prayagraj's Kumbh starting today