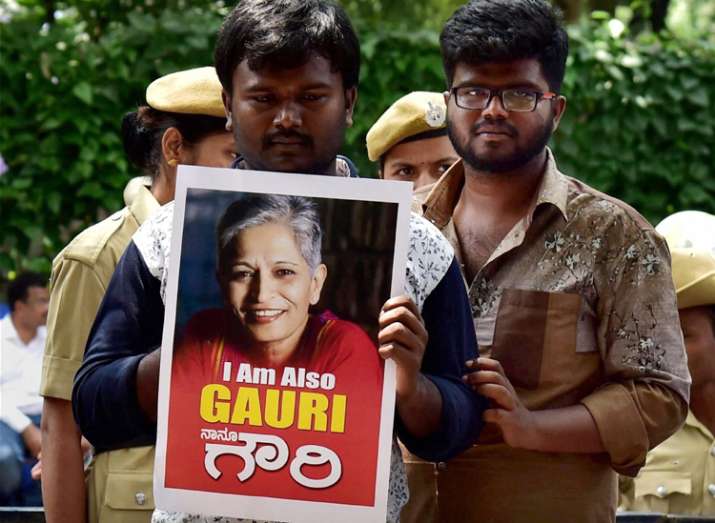 The US today condemned the killing of senior journalist Gauri Lankesh, whose gunning down by unidentified assailants in Bengaluru has sparked an outrage. 
"The US Mission in India joins advocates of press freedom in India and worldwide in condemning the murder of respected journalist Gauri Lankesh in Bengaluru," the US Embassy in New Delhi said in a statement here. 
"We offer our sincere condolences to the family, friends, and colleagues of Lankesh," it said. 
An outspoken critic of Hindutva politics, Lankesh, 55, was shot dead by assailants at the entrance of her residence in Rajrajeshwari Nagar in Bengaluru last evening. 
She had returned home in her car and was opening the gate of her apartment when motorcycle-borne assailants fired at her indiscriminately with two bullets hitting her in the chest and one on her forehead, police officials said. 
She edited a Kannada tabloid 'Gauri Lankesh Patrike' besides owning some other publications. 
Top media fora including the Editors Gulid of India, the Press Club of India, and civil rights bodies like ANHAD, have also condemned the killing. 
Also Read: Gauri Lankesh murder: Karnataka CM forms SIT to probe killing; protests erupt across India
"Her killing is an ominous portent for dissent in democracy and a brutal assault on freedom of press," the Guild said in a statement. 
The Press Club, issuing a statement soon after the incident was reported yesterday said, "A fearless and independent journalist who gave voice to many causes and always stood up for justice has been shot dead in the most brutal manner in order to silence her voice."