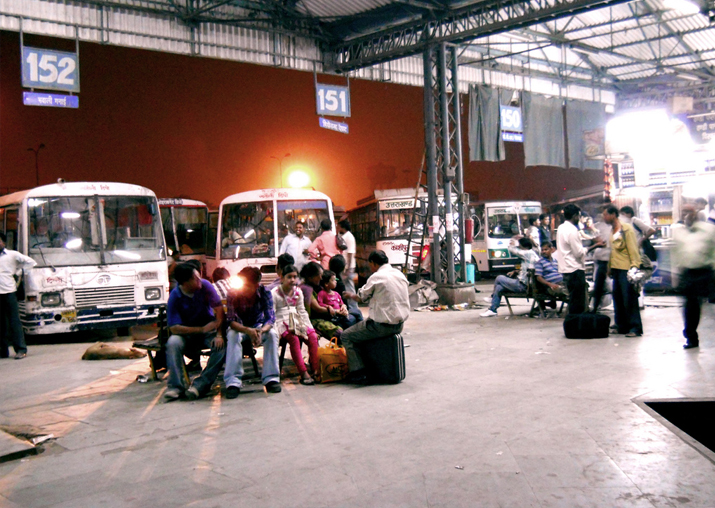 In order to curb noise pollution menace, the authorities have now decided to slap a fine of Rs 500 on drivers and Rs 100 on conductors or roadway staff for honking at Delhi's ISBTs.
Delhi Transport Infrastructure Development Corporation (DTIDC), which maintains inter-state bus terminals in the city, has issued an order enforcing the fines at all the three ISBTs in the national capital -- Kashmeri Gate, Anand Vihar and Sarai Kale Khan. Roadways buses of several states -- Haryana, Punjab, Uttar Pradesh, Jammu Kashmir and Rajasthan -- operate from all three ISBTs.
According to the DTIDC, it has been observed that noise pollution at ISBTs has reached an alarming level and immediate steps were required to combat this problem. The DTIDC stated it had been observed that frequent usage of horn and soliciting of passengers by roadways staff with loud noise were the major sources of noise pollution at ISBTs.
Meanwhile, steps are also been taken to bring down the alarming levels of air pollution. The Supreme Court-appointed Environment Pollution Prevention and Control Authority (EPAC) has proposed a slew of measures that will be implemented in national capital if pollution levels show any rapid spike. 
The EPAC, a body empowered to enforce the Graded Response Action Plan (GRAP), has proposed hiking parking fee and is also implementing the odd-even formula to keep vehicles away from roads.
On the other hand, strict measures under the GRAPs including shutting the Badarpur power plant and hundreds of brick kilns, banning use of diesel generators among others steps came into effect on Tuesday. The EPAC has also made it clear that parking fees would be increased four times the current amount if the air quality worsens and it will not hesitate to enforce the odd-even plan, order cars off roads, and shut schools.
The EPCA said that two other thermal power plants in the region, at Dadri and Jhajjar, will also have to be shut if pollution reaches emergency levels and also directed that Bawana gas-based plant be run at full capacity.
The measures under the GRAPs are expected to remain in force till March 15.
Under the GRAP, strict measures under very poor and severe categories are rolled out when levels of PM2.5 are between 121-250 micrograms per cubic metre (µg/m3) and above 250 µg/m3 respectively. PM10 levels have to be between 351-430 µg/m3 PM10 levels add above 430 µg/m3 respectively.
The 24-hour-average safe standards of PM2.5 and PM10 are 60 and 100 respectively and anything beyond that can harm living beings as these pollutants measure up to 30 times tinier than the width of a human hair.
The severe plus or the emergency action plan under GRAP, which proposes a ban on construction activities, odd-even scheme, ban on entry of trucks and closure of schools, shall come into force when PM2.5 levels cross 300 µg/m3 or PM10 levels cross 500 µg/m3 (five times above the standard level) and persist for 48 hours or more.
Experts say that Delhi's air quality is likely to worsen and turn 'severe' after Diwali, mainly due to meteorological conditions that will trap pollutants from local sources such as firecrackers. This time, the atmospheric conditions are such that the post-Diwali air quality is entirely tied to the level of firecrackers the city witnesses on the night of the festivities.
With an air quality index (AQI) of 306, the city's air quality was recorded as 'very poor' by the Central Pollution Control Board (CPCB) on Tuesday and the possibility of it turning 'severe' is looming large. However, in Rajasthan's Bhiwadi, which is an industrial hub barely 80 kilometres from Delhi and part of the National Capital Region, AQI was severe, the worst in the entire country. 
Last year, the air quality of Delhi had plunged and a dense blanket of smog had kept the city shrouded for over a week in November, soon after the Diwali festivities, prompting the authorities to announce closure of schools among other emergency measures.