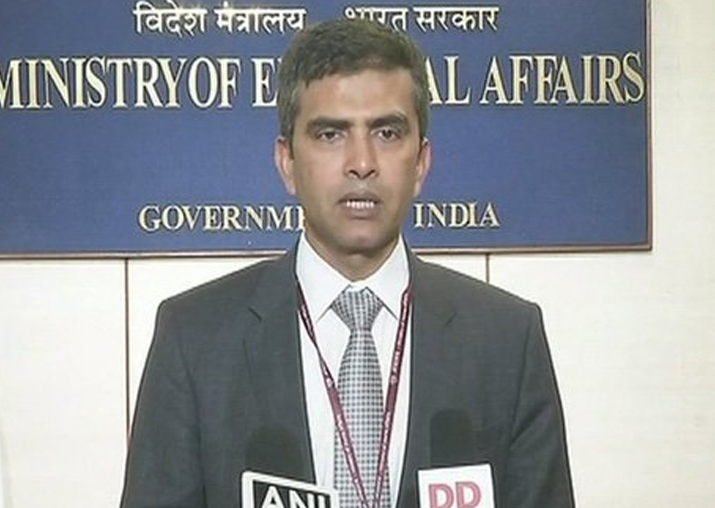 The Ministry of External Affairs today said that the status quo has not been altered at Doklam, where Indian and Chinese troops were locked in a stand-off for over two months last year.
"Our attention has been drawn to some reports that question the accuracy of the position stated by the government in respect to the situation in Doklam," MEA spokesperson Raveesh Kumar said.
"Government would once again reiterate that the status quo at the face-off site has not been altered. Any suggestion to the contrary is inaccurate and mischievous," Kumar added.
Kumar's remarks come in the wake of media reports about China carrying out some infrastructure development in the disputed region that Bhutan claims at its own.
Latest satellite images, accessed by India TV, show that the Chinese military has prepared as many as seven helipads, along with concrete posts, trenches and dozens of armoured vehicles. One of the images shows Chinese structure just 81 metres away from the Indian post of Doka la in Sikkim. 
While the image, taken earlier, shows two helipads – clearly demarcated by an H marking – in the disputed region, sources claim that the Chinese troops have built at least seven helipads in the area. The images also show the presence of military tanks, tank-carrying vehicles, artillery and other military equipment in the area.
Indian and Chinese troops had been locked in a stand-off for over two months last year in the Doklam area near Sikkim before "disengaging" on August 28. 
Yesterday, Army Chief Bipin Rawat had said that India and China 'bonhomie' before the Doklam standoff has returned, adding that one should be 'prepared for anything'.
The Army Chief had added that "as far as Doklam is concerned PLA soldiers are there in a part of the area, although not in numbers that we saw them in initially". 
"They have carried out some infrastructure development which is mostly temporary in nature. While troops (PLA) may have returned and infrastructure remains, it is anybody's guess whether they would come back there or is it because of the winters that they could not take their equipment, but we are also there, so in case they come, we will face them," General Rawat had said.