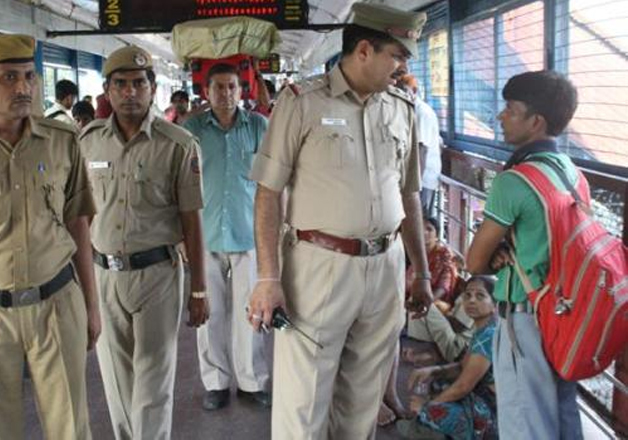 The Government Railway Police (GRP) has deployed special teams at Delhi, Kanpur and Mughalsarai to guard home-bound Bihar migrant workers, travelling ahead of Chhath Puja, against 'nasha-khurani (drugging) gangs.
GRP Patna Superintendent Jitender Mishra said that there are high chances of workers, travelling during the festival, being drugged and robbed inside the trains and also at the stations. 
Mishra said that GRP teams in uniform as well as in plainclothes will provide security cover to passengers and look out for gangs.
"Special railway police teams have been sent to Anand Vihar Railway Station in Delhi, and Kanpur and Mughalsarai stations to act against nasha-khurani gangs, which have been targeting migrant workers on way home to celebrate Chhath," he said. 
A senior GRP official of East Central Railway (ECR) said that migrant workers are soft targets for gangs that drug and loot the migrant workers returning home during the festival season. During Bihar's most popular Chhath festival, lakhs of workers travel back home in Bihar-bound trains from Delhi and other distant places. 
Mishra said the railway police teams will alert passengers and advise them what to do and what not to during the journey to protect them and their belongings from such gangs, which are active during the festive season. 
"Railway police teams have been cautioning passengers before boarding and giving tips on how to alert police if they suspect anything wrong during their journey," he said.
According to railway police officials, the gang members first befriend the passengers on long distance trains. They offer tea, coffee, biscuits, khaini (dry tobacco) or other eatables laced with sedatives or intoxicants. When their prey becomes drowsy and unconscious, they steal all the valuables. The gangs also change their modus operandi to target passengers from time to time.
Most of the migrant workers returning home with hard earned money, new clothes and other items are vulnerable to these gangs that work in teams from one railway station to another.
"Gang members travel with migrant workers as one of them, which poses real danger, as they also speak the same language, including Bhojpuri, Maithili and Magahi, and interact with them as natives of same district or same block, if not same village," another railway police official said.
"This way, they win over the confidence of fellow passengers and mix intoxicants tea, snacks and tobacco and serve them. The moment the passenger becomes unconscious, they rob him," he added.
Drug menace has become rampant during festivals, particularly on Bihar-bound trains from Delhi, Punjab, Gujarat and Mumbai.
"We have directed railway police teams to monitor each coach of trains, keep close watch at platforms before trains depart and check suspected people to minimise the incidents of drugging on trains," he said. 
According to ECR officials, most of the Bihar-bound trains from Delhi and other places are already witnessing a huge rush of passengers. 
This year, Chhath is being celebrated across Bihar and among Biharis from November 4 to 7.
With IANS Inputs